---
Mission and Vision
Clean water is the foundation for many of our functioning systems. It provides us with the ability to prepare meals for our families and allows our homes to have proper hygiene and sanitation channels. It gives life to our gardens and livestock, allowing our food systems to reach great lengths. Industries depend on it for production, transportation, and an array of unseen purposes. The planet's ecosystems rely on its role to purge contaminants, carry nutrients, and sustain life.
Without clean water, many of the systems that our daily activities depend on will collapse. And the truth is that many people have already experienced vulnerabilities in some of these systems due to a variety of reasons, whether affected directly or indirectly. The philosophy behind World Water Reserve is that people should have as much knowledge as possible about the systems that keep their lives functioning. Thus, our purpose is to provide individuals, families, and small communities with the resources necessary for them to live as self-sufficient and peaceful as possible.
Information and Research
The information gathered to write our articles are sourced from reputable, informative sources with scholarly references, and cross-referenced with broader perspectives with the goal of achieving utmost objectivity. We avoid sources with blatant political leanings of any party or with obvious biased opinions. Our articles will cite references by linking the source in the body of the text or by listing them at the end of the article.
Product Reviews
Our website features affiliate links to products which we'll receive a commission for if purchased through the link. We carefully research and select our products based on market trends and reviews, relevance, and alignment to our vision. Products are then purchased, tested, and evaluated based on custom criteria.
Writers
Our writers and guest authors are experts of varying respective backgrounds and contribute to World Water Reserve on an invite-only basis. We're selective about who represents our vision as well as the experience and expertise they offer.
---
---
---
Jeremiah Zac
I'm Jeremiah, the owner of World Water Reserve. I'm a writer and researcher with a particular interest in sustainability and rural living, water scarcity, and innovative water purification methods. I utilize my multimedia and communication experience in the NGO and humanitarian fields to bring light to important topics. My passion is to educate others on the reality of the global water crisis and on ways to sustain themselves and their families in the midst of it.
Damaris Zehner
Damaris Zehner is an associate professor of English at Ivy Tech Community College in Greencastle, Indiana. She is the author of a collection of essays called The Between Time and a contributor to blogs such as Resilience, Local Futures, Mother Pelican and Internet Monk and to the magazine Small Farmer's Journal. She recently recorded a conversation with Michael Dowd for Postdoom.com. She has lived and worked on four continents, equipping educators, translators, and gardeners with training and supplies. Her blog, Integrity of Life, focuses on sane living in the present and in the coming post-industrial world.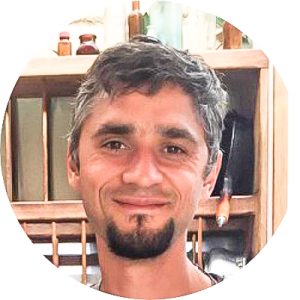 William Horvath
William Horvath is a geologist turned permaculture farmer. In the last few years he's transitioned from working for the man and being trapped in the consumer-driven system to spending his days on his permaculture farm and doing his bit in restoring the landscape to the beauty we once took for granted.
Robert C. Brears is the author of Urban Water Security (Wiley). He is the founder of Mitidaption, Mark and Focus, is Director on the International Board of the Indo Global Chamber of Commerce, Industries and Agriculture, and a Visiting Fellow (non-resident) at the Center for Conflict Studies at MIIS, Monterey, USA. He has published widely on water security, water resources management, and related issues, and has conducted field research around the world, including Antarctica.