Why Everyone Wants the AquaBox: Complete Aquaponics Kit
---
Insight into the reasons for why the AquaBox may help many beginner and intermediate aquaponics enthusiast take their game to the next level.
---
Updated: February 1, 2023
/
---
---
Our team of experts independently researches and tests products to bring you our best recommendation. When you buy through our links, we may get a commission. Read our affiliate disclaimer here.

This article will dive into the details of the AquaBox, a handcrafted complete aquaponics system custom-made in Northern California.
If you're a beginner, excited to start your own aquaponics system, or someone with a bit of experience who's looking to expand your skillset, then you'll want to continue reading on why I believe the AquaBox can significantly help you in ways you might not expect.
---
---
---
---
---
The Reality for Many of us Enthusiasts
While my personal experience with aquaponics might differ from yours, I do believe the result is something you can benefit from.
So, hear me out…
My first encounter with the idea of aquaponics sort of caught me by the hair when my cousin's conspicuous buddy shows up unexpectedly at a shindig a few years back.
When he heard that I had a deep interest in gardening as a self-sufficiency practice, he unraveled a confusing story about a closed-loop system resembling nature that involves lots of fish poop and veggies.
I remember him using the words "revolutionary" more than once.
While he was a bit more enthusiastic for my taste, he did plant a seed. And my own research eventually led me to fully appreciate the beauty that is aquaponics.
And down the drain pipe I plunged.
I consumed videos, books, articles, tutorials and everything aquaponics-related until the only thing left was to get my eager hands wet and fishy.
And so, I did.
---
---
---
---
---
"I Really Want to Get Started with Aquaponics, but I'm Clueless about all the Technical Stuff"
Of course, there was a significant problem that I didn't originally account for:
My excitement to build my first infinite food system might have outweighed my experience with numbers, science, and just building stuff in general.
To be completely honest, I really thought that I knew what I was doing but I was a bit in over my head.
I thought I had a general-enough understanding of the science behind aquaponics based on the resources and videos I'd come across.
But when it came to pulling the trigger and building my first system, I was a bit lost.
The PVC pipes, water pump, reservoirs, and all the fittings, didn't quite fit the way I had envisioned in my mind.
The end result was something that resembled an aquaponics system but didn't quite function like one: the pump wasn't the right size, the water wasn't cycling correctly, and I just couldn't figure out the deal with the pH level.
Short story shorter, I spent the next several months in a cycle of trial and error: buying the wrong parts, forcing things together that shouldn't be, measuring things incorrectly, breaking stuff, and worst of all, wasting lots of time, energy, and money.
Let be clear: it isn't completely unmanageable for a beginner to learn how to build an aquaponics system from the ground up. In fact, many beginners courses do very well in walking through the exact steps.
My problem was that I was just too eager to get started. So I rushed a bit, sized things incorrectly, ignored a lot of the math, and had to learn from my mistakes a few times over.
Fast forward to today, I've gathered enough knowledge and experience to comfortably build and manage my own aquaponics set up, but I certainly had to learn the hard way.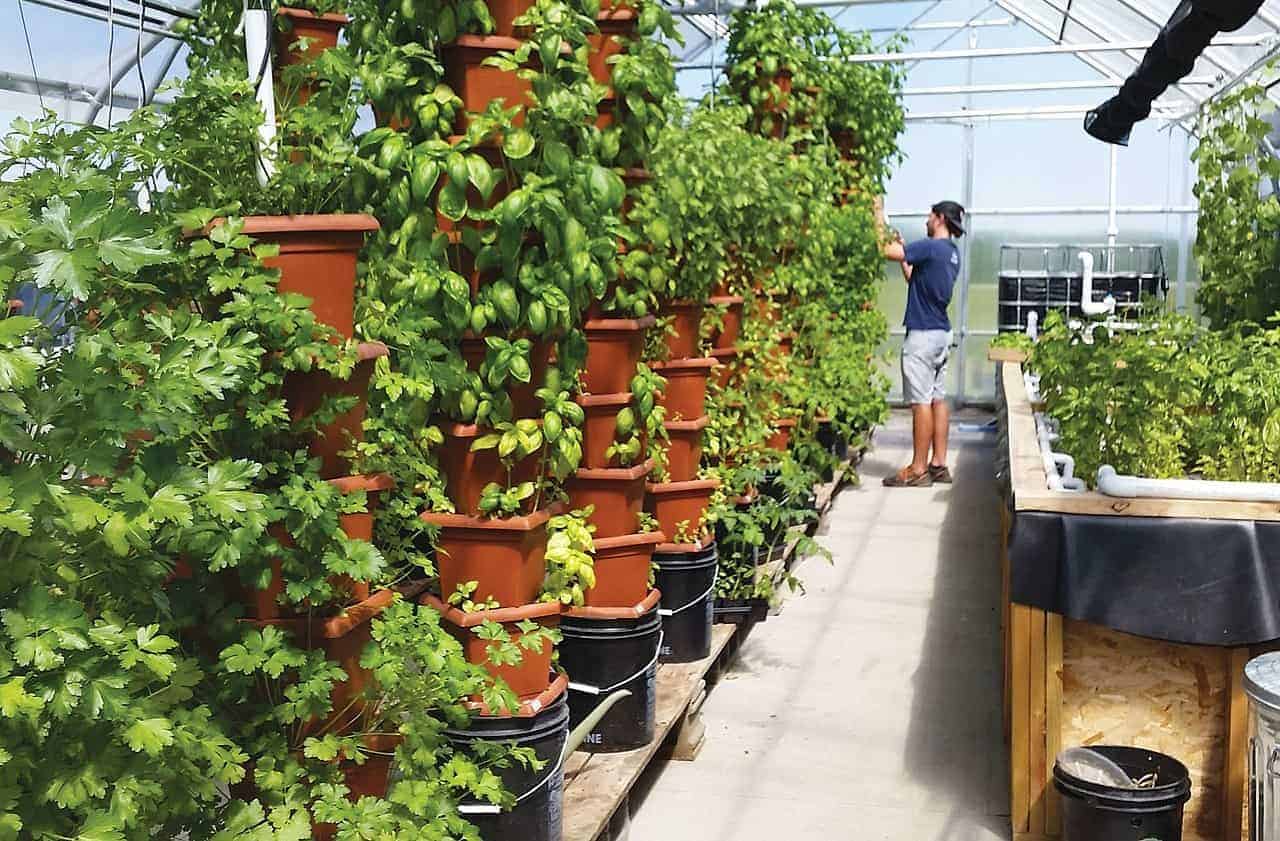 There's an important realization that I wish I had come to back then and that I continue to share with others today.
That is, take the time to learn the very basics of aquaponics and gain some real hands-on experience before attempting to build your first system. It will save you lots of time, energy, and money.
And the best way to learn and gain experience is to start with an already-built, properly functioning aquaponics system.
This way, you can start logging your experience hours on day one.
-   You'll witness how the nitrogen cycle works, firsthand.
-   You'll observe how fish thrive in specific conditions.
-   And you'll learn the purpose of each component and how they function together in unity.
The knowledge you'll have under your belt is arguably more valuable than the system itself.
---
---
---
---
---
AquaBox: The Hard Part is Done So You Can Focus on Growing
There are a handful of high-quality, complete aquaponic systems available for the residential user.
Some are smaller, tabletop systems capable of hosting smaller fish and growing small quantities of herbs and vegetables.
Others are much larger systems that occupy several square feet of floor space.
But one of them, in my opinion, tops them all.
In terms of size, build quality, functionality, and overall aesthetic appeal, the Aquabox is the perfect complete aquaponics system for someone who's serious about starting but wants to make a good investment with long-term benefits.
It's the perfect size for one to intimately observe the totality of the nitrogen cycle and to get hands-on experience right away, all while harvesting generous amounts of vegetables on a regular basis.
But the real beauty of the AquaBox is that it's already carefully designed – all the components are specifically measured to function as one unit. There will be no guesswork on your part.
That means you can start getting hands-on experience right away.
And when you do decide to build your own system, you won't be as ill-equipped as a rock climber without a rope, as I was.
Plus, the lonvegity of the AquaBox will ensure that it will never outlive it's usefulness, even as you grow as a aquaponics gardener.
Everything You Need in One Box
The AquaBox is handcrafted in Northern California from custom wood components.
From the build quality alone, it is easy to notice that nothing about this system is cheaply made – but is meant to be used for longevity.
The natural wood finish makes it quite a decorative fixture for any setting.
With a 30-Gallon reservoir and a 33 x 58" flood table, this complete aquaponics system is meant for serious vegetable growing – capable of harvesting a variety of vegetables regularly.
Complete with all the necessary and properly sized components, including water pump, drain tube, clay media, and all the fittings, the Aquabox is ready to go, as is.
---
Custom Wood Flood Table Frame
Custom Wood Reservoir Frame
30-Gallon Reservoir (35" x 35" x 14")
Flood table (33" x 58" x 8")
(2) Root Royale Hydro Clay Pebbles (50L/13Gal)
Water Pump
Drain Tube
Fill/Drain Fitting
AquaCycle Aquaponics Fish-less Cycling Kit
---
---
---
---
---
Much More than Just a Beautiful, Durable Aquaponics Kit
If you're certain that you'll eventually want to have your own aquaponics system one day but might be a bit overwhelmed by all the sizing and calculating involved with building your own, or might not have the means or tools to set it all up, the AquaBox is ready for you to get your feet wet and start aquaponics right away.
It's pricier than a small desktop aquaponics system, but it's large enough that you can actually harvest vegetables enough from it as a food source.
Serious aquaponics gardeners will likely expand beyond the AquaBox at some point, building larger and more expansive systems to increase their yield. But the long-lasting aspect of the AquaBox will always keep it a valuable, functioning system in anyone's repertoire – using it as a control system while testing out other fish species and plant combinations. So, the AquaBox will never outlive its usefulness.
---
---
---
---
---
---
---
Because the AquaBox is custom-made, production is limited to the number that can be produced on demand. Only qualified vendors carry the AquaBox and thus must be ordered through them. Retailers such as Dealzer, GrowAce, and GrowersHouse are some of the few businesses that distribute it for the manufacturer.
Join in with the other AquaBox users and click one of the buy buttons below and get taken to the secure purchase page.
---
---
---
---
---
---
Total Weight: 165.00lb
Total Height: 26" tall
Top Box / Grow Bed: 33" wide / 58" length / 8" tall
Bottom Box / Reservoir: 35" wide / 35" length / 14" tall
Stand: 25" wide / 46" length / 18" tall
No need for sizing parts - all components are pre-measured and compatible
Use 90% less water than traditional gardening
Grow vegetables and eat fish for off-grid or
homestead setting
Aesthetically compatible for home or office setting
Beautiful custom wood frame
Handcrafted and designed in Northern California
---
Thank you for taking the time to read our article on the AquaBox: Complete Aquaponics Kit. We'd love to hear your feedback in the comments section below. If you've found this article to be useful and are interested in learning more, be sure to sign up for our newsletter.
---