The best shallow well jet pumps are made of cast iron or stainless steel, have durable impellers, and can pump water from depths of up to 25 feet. Deep-well jet pumps or convertible pumps can reach depths of up to 90 feet or greater. Some of the top brands are Red Lion, Burcam, and Goulds.
---
The content on worldwaterreserve.com is always free. When you make a purchase through one of our affiliate links, we make a commission at no extra cost to you. Help us keep our website thriving!
---
Comparing all the technical differences and numbers between shallow well jet pumps can get quite complex.
If you're confused about terms such as flow rate, psi, depth, horsepower, self-priming, convertible pumps, and not to mention the huge number of brand names available, this article will help you understand how to choose the right jet pump for your water well application.

We'll break down all the factors that you should consider, educate you on how jet pumps work and how to properly size them, cover troubleshooting tips, and of course, review the best shallow well jet pumps for your well.
This article will discuss the following:
Reviews of the best shallow well jet pumps
Reviews of the best deep well jet Pumps

How a jet pump works
How to size a jet pump for your water system
How to prime a shallow well jet pump
Maintenance and troubleshooting FAQs
---
---
---
---
Editor's Choice for Best Shallow Well Jet Pump
The 6.6 Gallon pressure tank comes with an internal butyl bladder, eliminating the waterlogging problem. Burcam provides a 2-year warranty for the pump and tank. Unit is factory assembled for easy installation.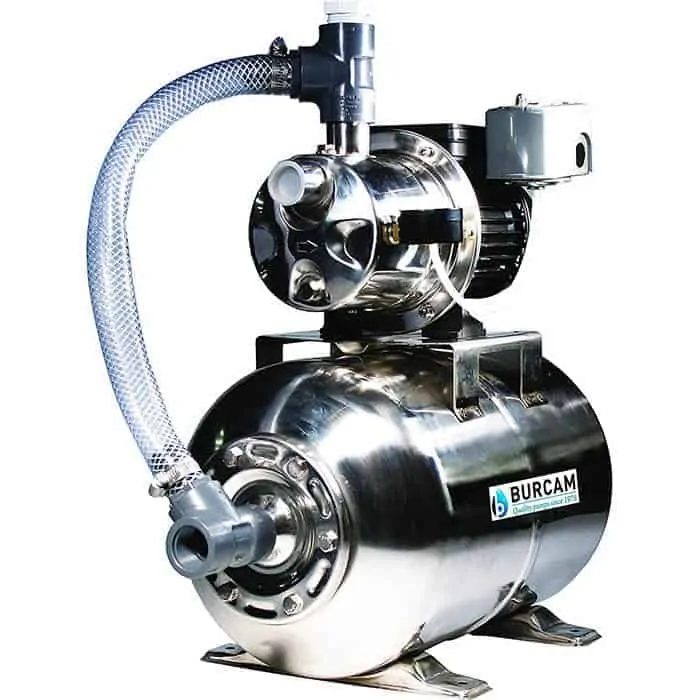 ---
---
---
---
---
Pump
Model

Vendor

Red Lion
Shallow Well

CountyLine
Shallow Well
Eco Flo
Shallow Well

Superior Pump
Shallow Well
Dayton
Shallow Well

Flotec
Shallow Well
WAYNE SWS100
Shallow Well
Goulds J5
Convertible

Wayne CWS75
Convertible

Goulds HSJ07N
Multistage
---
---
---
---
---
In regions where the water table isn't as deep as to require a submersible pump, deep and shallow well jet pumps may be the appropriate application for the well system. Shallow well jet pumps are typically used for wells at depths of 25 feet or less, while deep and convertible jet pumps reach 90 feet and beyond. The type jet pump necessary for the well system would depend on the depth of the well and the flow rate required to meet the household's demand.
Jet pumps use centrifugal force to pull water upwards as opposed to submersible pumps which push water from underneath. Unlike submersible pumps, jet pumps need to be primed in order to function properly. Priming a jet pump involves filling it with enough water prior to pump operation.
Finally, be sure to correctly size your water requirements before selecting a shallow well jet pump. An incorrectly sized pump may cause expensive problems to your system in the future.
---
---
---
Thank you for taking the time to read our article on the best shallow well jet pumps. We'd love to hear your feedback in the comments section below. If you've found this article to be useful and are interested in learning more, be sure to sign up for our newsletter.
---
Latest posts by Jeremiah Castelo
(see all)