Master List of the Best Water Storage Containers and Tanks
---
We've sorted through dozens of water containers for virtually every perceivable emergency situation. Here are the results of 70+ hours of hands-on research.
---
---
---
Our team of experts independently researches and tests products to bring you our best recommendation. When you buy through our links, we may get a commission. Read our affiliate disclaimer here.

---
---
---
---
The longest amount of time a human being can survive without water is about three days.
So, at the 72-hour mark, you'd better be near a river or stream or have come across an emergency water bottle.
What would you do if your water supply were suddenly cut off?
Experts recommend having at least three days' worth of clean water stored away at all times in case of emergency.
And the reality is that many people aren't prepared for a disaster situation should one come unexpectedly. Those who rely on a private water source such as a well or stream might be better off than those who rely on city water.
But the truth is water emergencies can happen to anyone and happen unexpectedly, so it's best to always be prepared.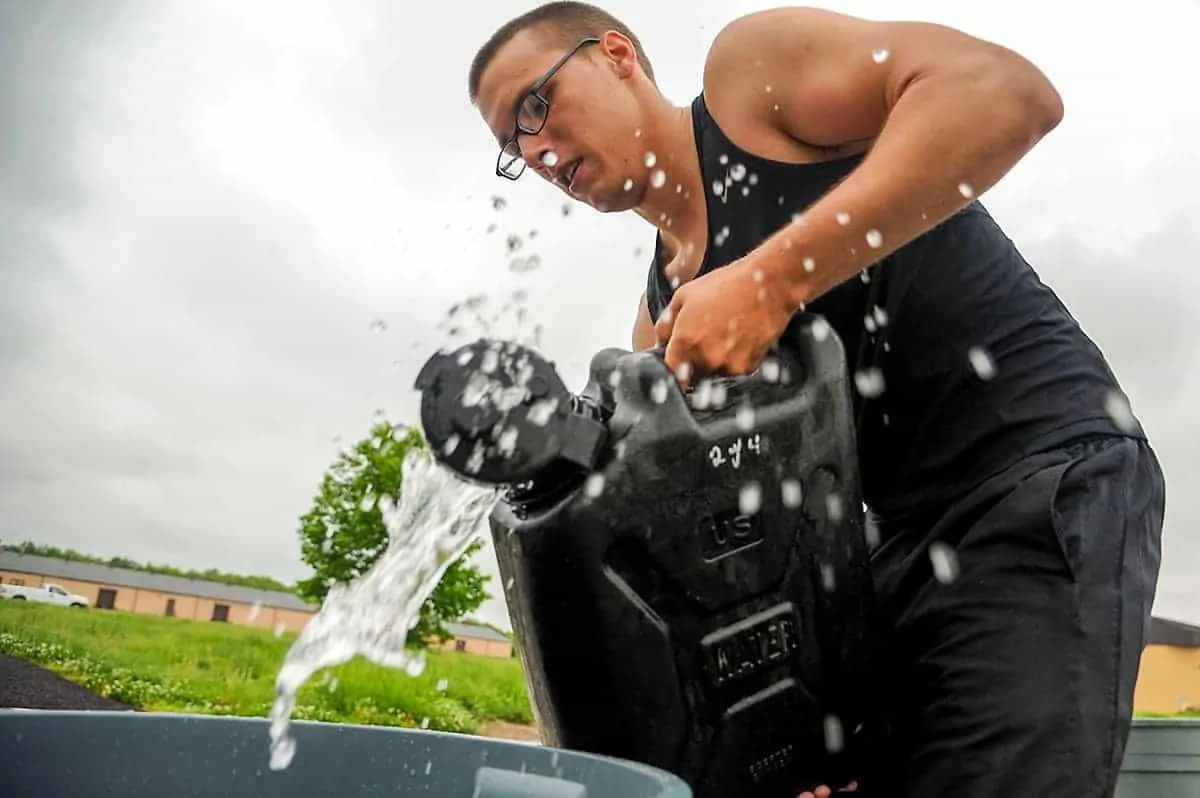 So, how does one go about storing water for emergencies?
Is it as simple as filling a few jugs of water and storing them in the closet for later use?
There are actually some pretty important factors that need to be considered when storing water for long-term emergency use.
Some factors will increase the length of time it can be stored and help with ease of access during an emergency, while other factors may increase the risk of contamination. We'll cover how to purify water for long-term storage and the recommended guidelines for rotation.
We've compiled information from the CDC, the EPA, and FEMA, as well as books and articles from professionals and preppers, about the proper and most effective practices in ensuring safe, practical water storage for you and your family.
In this article, we'll cover:
Reviews of the best water storage containers and tanks for both emergency and long-term storage
General guidelines for water storage such as volume, space, and maintenance.
What to consider when selecting a storage container and how to make the best decision for yourself and your family
Purification options for water storage
---
---
---
---
---
---
---
---
---
---
---
How to Store Water for Emergency Situations
---
---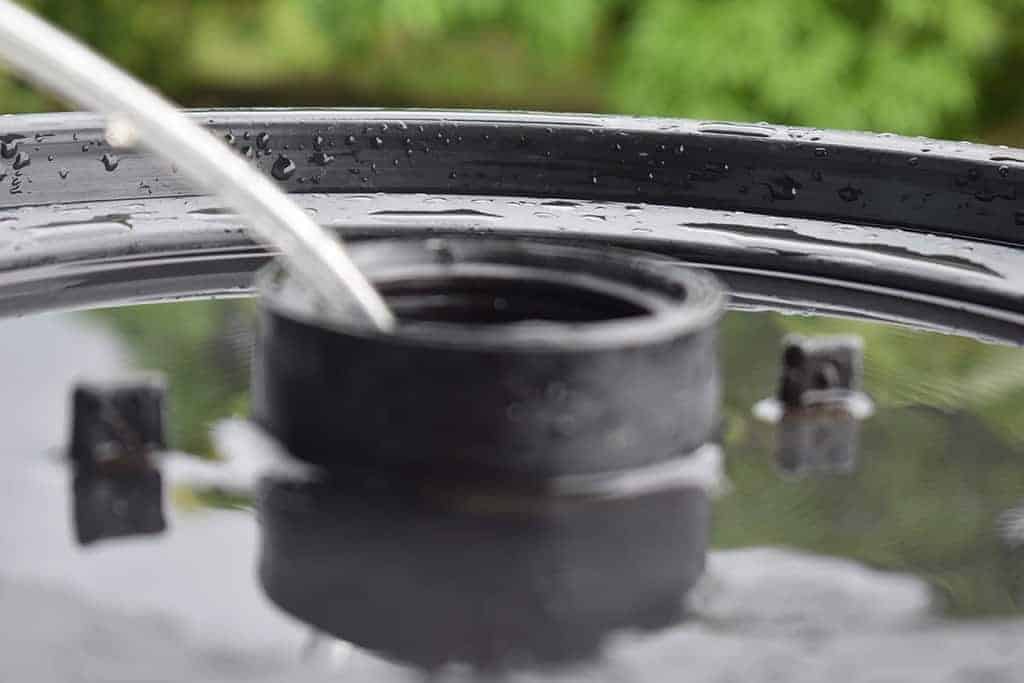 ---
---
Before preparing to store water, whether it be for long term or emergency use, there are some general guidelines which should be followed for the sake of safety and practicality. Factors such as quantity, portability, cleanliness, storage material, storage location, and treatment should all be taken into account in order to avoid any future complications.
---
---
---
---
---
How Much Water Do I Need to Store?
---
---
---
Each Person Needs At Least 1 Gallon of Water Per Day
---
---
---
According to the CDC, FEMA, and the EPA, the universally recommended amount of water a person needs per day is one gallon, half-gallon for drinking, and half-gallon for washing and cooking. The recommended amount to have on hand during a disaster situation is at least 3-days worth but two weeks is ideal.
So, in order to survive without normal water channels during an emergency, one person should have 14 gallons of water already stored away.
---
---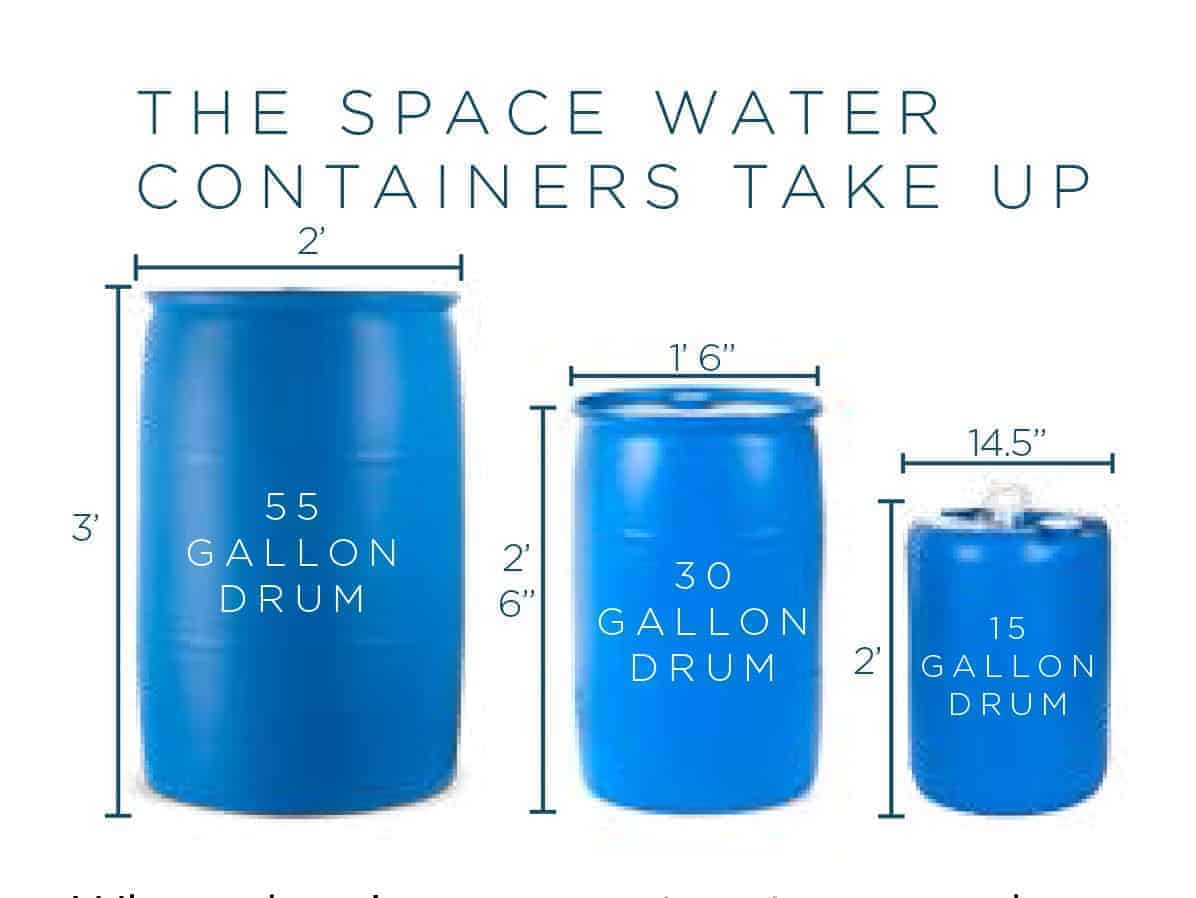 For an entire family, the numbers start to add up very quickly. In an everyday setting, the average family uses 70 gallons of water per day, per person.
This includes showering, cooking, laundry, gardening, and other uses. One can imagine how during an emergency or disaster situation, daily water usage will have to be conserved drastically in order to save enough for human consumption.
---
---
Another major factor to consider, especially if relocation is necessary, is the weight of the water container once filled. A 55-gallon water barrel weighs 23 lbs. when empty but can weigh up to 484 lbs. when full.
Location and accessibility are important factors to take into account when storing water in larger, more long-term vessels. A 5-gallon water jug, more reasonable for portability, can still weigh about 45 lbs. when full.
---
---
---
---
---
---
---
| | | |
| --- | --- | --- |
| Container Size | Weight Empty | Weight Full |
| 5-7 Gallon Container | < 1 lbs. | 44-60 lbs |
| 15-Gallon Barrel | 7.5 lbs | 133 lbs |
| 30-Gallon Barrel | 14 lbs | 264 lbs |
| 55-Gallon Barrel | 23.5 lbs | 484 lbs |
---
---
---
---
---
What to Consider When Choosing a Water Storage Container
---
---
While the process of water storage is a simple concept, there are a number of things that need to be taken into consideration in order to ensure that your supply is clean, contaminant-free, and available.
Before deciding on a container to purchase, be aware of the purpose it will be used for, the amount of water you intend to store, and the length of time you intend to keep it.
Am I storing water away for long term with the purpose of accessing it during a natural disaster or emergency?
Is it just for myself or for my entire family?
Do I need a container that I can easily transport?
While water itself doesn't expire, it is best practice to replace the water supply every year just to ensure the environment and conditions haven't altered the water in any way. While there are precautions we can take to ensure that the water is clean in its stored state, it is always safer to change it out every year.
Long-Term Storage for Families or Individuals - For those considering long-term water storage for an entire family in case of a natural disaster or an emergency, a larger 55-gallon barrel would be a good choice. These can be filled and stored away in a cool, clean area to be accessed at the time of need.
While most 55-gallon blue water barrels, which are intended for water storage, are already food-grade and safe, be sure to only purchase food-grade, BPA-free, polyethylene plastics to ensure safe water drinking.
Larger families might want to consider larger barrels or even several 55-gallon barrels. Be sure to have a water pump to access the water from the barrel.
Transportable Water Storage for Emergencies - For those in need of something smaller and transportable in case of a situation where you'd need to be mobile, like a wildfire, for example, a 5-7 gallon portable water tank would be the way to go.
Select something that is large enough to store the amount of water you'd need yet small enough so that the added weight wouldn't be too much of a factor. As with all plastic containers, select BPA-free, food-grade, polyethylene plastics only.
---
---
---
---
---
---
---
---
---
Water Storage Preparation
---
---
Water itself doesn't expire; it's the environment in which it is stored that can alter its usability over time.
---
---
---
---
Always use new, clean, food-grade plastic containers that are BPA free
Use opaque or translucent containers and keep them away from sunlight. Never use transparent containers.
Don't store containers directly on concrete
Avoid contamination of water through contact with skin or outside environment
Make sure containers are sealed tightly
Have smaller, portable containers ready for easy access
Rotate clean water supply every year
---
---
The safest plastics to store water in are polyethylene-based, food-grade plastics which are marked with #1, #2, or #4 on the bottom of the container. Those marked with a #3, #5, #6, or #7 are not food-grade.
---
---
---
---
---
---
---
---
---
---
How to Clean Water Storage Containers
---
---
Just as it is with used milk or juice jugs, brand-new storage vessels need to be disinfected before adding water to them.
---
---
---
1. Wash and rinse the container
2. Add 1 teaspoon (64 drops or 5 milliliters) of unscented liquid bleach per 1 quart (1 liter) of water
3. Pour mixture into clean container, cover tightly, and shake well until the entire inside of the container is coated
4. Let sit for 30 seconds, pour out, then let air dry
5. Pour clean water into sanitized container and cover tightly with lid
---
---
---
---
---
Water Purification Methods
---
---
---
---
How to Make Water Safe for Storage
---
---
Most water treatment facilities treat tap water with chlorine, thus tap water is usually safe to store as it is. If storing water from a well or a source where prior treatment is uncertain, or if there's suspicion of contamination,
common methods of treating water
are through water purification tablets and drops, chlorination, boiling, and distillation.
---
---
---
---
---
Water purification tablets and drops
When purifying large amounts of questionable water for storage, perhaps the most convenient and efficient way to do so is through water purification tablets and drops.
Simply follow the instructions on the package to determine how many tablets or drops you'd need to apply to the amount of water in the container.
There's a 30-60 minute wait time before the water is considered safe to consume after the tablets have been applied. But when purifying for long-term storage, simply apply the drops, close the container, and store away.
Water purification tablets are typically made from iodine, chlorine, or chlorine dioxide. Each chemical has its own advantages and disadvantages in terms of wait time, taste, and microbe efficiency. Read our article on water purification tablets for a more detailed explanation.
---
---
---
---
---
---
---
While boiling water might not purify as large a volume as the tablets or drops, boiling is more efficient in killing bacteria, viruses, and parasites. The flat taste of boiled water can be eliminated by swishing around and letting sit for a few hours or by adding a pinch of salt to each quart.
---
---
---
1. If cloudy or murky, filter the water through clean cloth or coffee filter
2. Bring water to a boil for 3 minutes
3. Let the water cool
4. Store water in sanitized container and cover tightly with lid
---
---
---
---
---
Disinfecting With Chlorine Bleach
---
---
If water purification tablets are unavailable, household bleach (Chlorine) can be used for the same purpose. Chlorine is the same chemical used in many water purification tablets and would just need to be measured in order to have the same purifying effect.
Chlorine can kill most bacteria and viruses but is not as effective in treating the water for parasites such as Cryptosporidium and Giardia. Furthermore, chlorine will not make the water drinkable if it has been contaminated with poisonous chemicals.
---
---
---
---
---
If water is cloudy or murky, filter through a clean cloth or coffee filter


Mix 1/8 teaspoon (8 drops) of unscented household chlorine bleach per 1 gallon of water


Let stand for 30 minutes


If water is still murky after 30 minutes, add an additional 1/8 teaspoon of bleach and let stand for 30 minutes.


Store in clean container
---
---
Never use more than the recommended amount of bleach as to avoid poisoning. Be sure to heed 30-minute window before dinking.
---
---
---
---
---
---
---
Distillation is the most effective method of water purification, as it will certainly rid the water of all bacteria, viruses, parasites, heavy metals, and most other chemicals, but it is a slow process and yields very little drinkable water at a time.
The distillation process works by collecting the condensation from the boiling process. The condensed vapor will be free of all the impurities that the water may have had at first.
---
---
To distill water with a cooking pot, fill it about halfway with water. Turn the lid upside-down and tie a string from the lid handle to a cup so that the cup dangles above the water.
When the water is boiled, the condensation will drip from the lid down into the cup. Boil for about 20 minutes.
---
---
Countertop water distillers for home use can be purchased and provide a more streamlined and efficient way of distilling water compared to the DIY method. Home water distillers can typically produce up to 4 gallons of water per day.
Check out our article on home water distillers for a better understanding of how they work.

---
---
---
---
---
---
---
Portable water filtration devices can be convenient for quick removal of parasites and heavy metals, but most portable filters will not remove bacteria or viruses. To treat filtered water for microbes, follow the directions for chlorine disinfection after filtering.
Read our detailed guide on portable water filters.
---
---
---
---
---
| | | | |
| --- | --- | --- | --- |
| Methods | Kills Microbes | Removes other contaminants (heavy metals, salts, and most other chemicals) | Kills Parasites |
| Boiling | Yes | No | Yes |
| Chlorination | Yes | No | No |
| Filtration | No | Yes | Yes |
| Distillation | Yes | Yes | Yes |
---
---
---
---
---
---
---
While there are numerous places which you can collect water from, be aware of the quality of the source. Some sources, such as city tap water, are already treated with chlorine and won't require any further disinfection. Other sources, such as lakes and streams, would need to be treated before storing away.
---
---
---
---
---
---
---
Water from the water heater tank
Melted ice cubes
Clean water from the toilet tank (not bowl)
Water from pools can be used for hygiene, but not drinking or cooking.
---
---
---
---
---
---
---
Rainwater
Streams and ponds
Wells
Natural springs
---
---
---
---
---
Additional Tips for Practicing Safe Water Storage
---
---
Drinking should always be the priority in terms of water usage. Other uses, such as washing, bathing, and cooking, must be limited so that there always remains enough for consumption.
Always consume clean water first. Suspicious or contaminated water can be treated through one of the methods mentioned, but it will take time for it to be consumable. Always have clean water on hand, ready for consumption.
Never consume water that you suspect to be contaminated. If in doubt, treat the water. Consuming contaminated water can cause illness that would need medical attention, creating a situation that can potentially be direr than water scarcity alone.
Do not drink caffeinated, alcoholic, or sugar-heavy, drinks in place of water. These drinks will dehydrate the body, requiring more water.
Never consume water that has been contaminated with fuel or toxic chemicals.
---
---
---
---
---
---
---
Water storage is something that all people should learn and become familiar with. There are countless potential events that can throw us into a situation where we'd wished we were better prepared. The CDC recommends two weeks' worth of water for an emergency situation and the average person uses about a gallon a day. Stick with BPA-free, food-grade containers made of plastics #1, #2, or #4. Take proper precautions when treating water for storage and select appropriate-sized containers for all situations.
Thank you for reading our article on the best water storage containers. It may seem like much to learn and prepare for, but it's certainly better to be over-prepared than not at all.
---
---
Best Long-Term Water Storage Tank
Best Portable Water Container
---
---
Latest posts by Jeremiah Zac
(see all)