My Biolite Campstove 2 Review: Unlimited Potential Energy?
---
The Biolie Campstove 2 is a portable stove that uses organic material to convert heat into electricity, providing 3 watts of power to charge small devices.
---
Updated: February 1, 2023
/
---
---
Our team of experts independently researches and tests products to bring you our best recommendation. When you buy through our links, we may get a commission. Read our affiliate disclaimer here.

---
I first heard about the Biolite Campstove 2 through a friend of mine who was excited to tell me about a portable stove that converts organic material into electrical power.
"You can charge your phone while cooking your breakfast" was what he told me.
At first, I couldn't help but think of what an odd invention it was. I mean, why would I ever need something that would both cook my food AND charge my phone?
I do spend a lot of time outdoors, and whenever I anticipate the need to charge my phone or camera, I'll just bring my portable power bank. It's small, not too heavy, and it gets the job done.
And in terms of cooking, I have a thousand portable stoves and various gear that I'm much more comfortable using to get my food cooked.
So, I couldn't understand the point of a device that would combine two functions that were seemingly unrelated.
That was, until the day I saw the light...er the Biolite.
But, my solar power bank hasn't failed me yet!
Hiking solo on a beautifully overcast day, I brought my camera with me to get some photos of the fall foliage. After about a mile of hiking and less than a hundred shutters later, the battery was draining quickly.
Aww dag! I forgot to bring a backup battery. No worries, I always have my trusty solar power bank with me, I can just charge my camera with that.
Aww snap! I forgot to charge my power bank. A drained power bank does me no good. No worries, it's solar powered so I can just let it get some sun for a bit and we're all good.
Aww schnikes! It's too cloudy! No sun = no power = no battery = no cool photos 🙁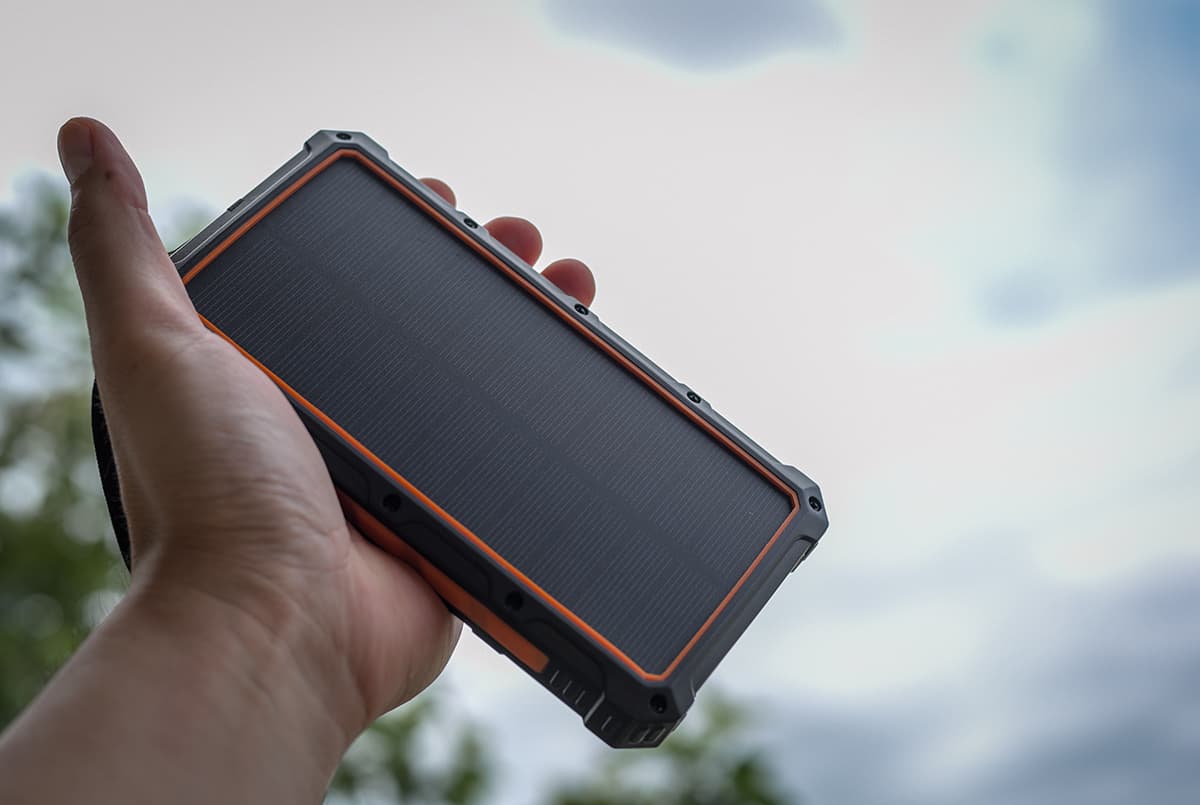 It was then that I realized the limitations of my solar power bank. It's great for portable power but it's dependent on the sun for charging and thus does me no good in overcast weather.
It was also then that I realized how helpful my buddy's device would have been. What was it called again? The Scott Baio-light?
The fact that I could charge my devices with organic material such as leaves, twigs, and wood meant I could potentially have an unlimited power source. How could I not have seen that earlier? 
And not to mention, I wouldn't need to set up camp and start a fire just to cook a meal if I get hungry.
But it was the potential benefits that related to self-sufficiency and survival that really excited me.
I could charge up my portable ham radio, GPS device, flashlights, headlamps, rechargeable batteries, all with leaves, twigs, and wood. And where I live, there are plenty of those. A potentially unlimited power source. It was a game changer.
Needless to say, I got myself a Biolite Campstove 2.
And this here article is my honest review.
---
How Does the Biolite Campstove 2 Work?
---
---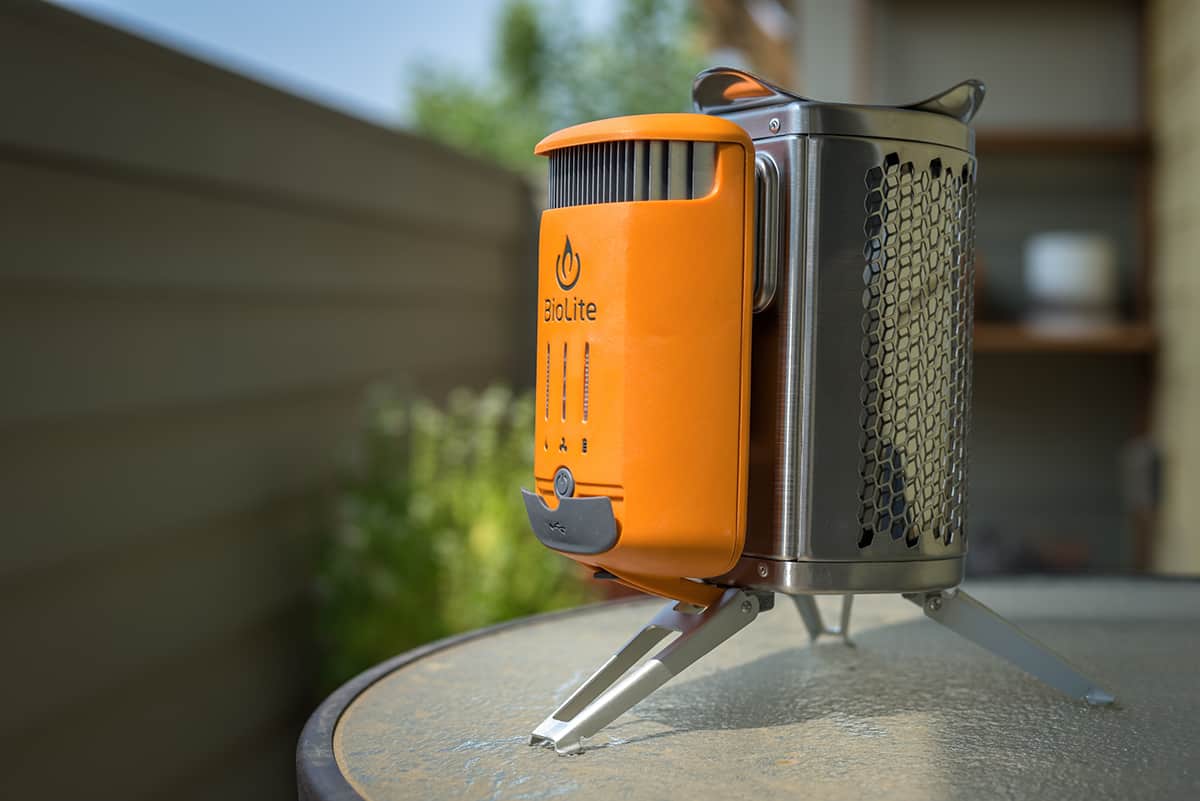 The Biolite Campstove 2 generates energy by burning organic material such as wood, twigs, and leaves. Through its patented combustion technology, a vortex of smokeless flames rises from the stove and can be used to cook meals and boil water. The heat generated from the flames powers the attached powerpack which can be used to charge small devices such as phones, flashlights, and cameras.
Biolite's patented technology captures excess heat from the stove through a heat probe attached to the powerpack. This heat is converted into electricity through a thermoelectric generator, storing the energy into the powerpack to be used to charge external devices via USB cable.
The internal fan allows for the elimination of smoke and for controlling the distribution of heat toward the thermoelectric generator, providing a safe and controlled environment.
There are 3 light indicators, each with its own icon.
The fire indicator measures the heat and intensity of the flame. The higher the flame, the more heat being processed through the combustion chamber, and thus more power being channeled through the battery.
The fan indicator measures the power of the fan. Increasing the fan power directly increases the size of the flame.
Finally, the power indicator measures the level of power in the battery itself. As the flame burns, you'll notice the power indicator go up, meaning the battery is properly charging.
---
---
---
---
---
My Experience with the Biolite Campstove 2
---
---
Charging
Since the device-charging capability is my favorite function of the Biolite Campstove 2, we'll start there.
The battery on the Biolite Campstove 2 is a standard 3200mAh battery, much like any average portable power bank and functions just the same. And at 3 watts, it has the charging speed of a standard USB charger. So, you can expect your small USB devices to charge at about the same speed as it normally would.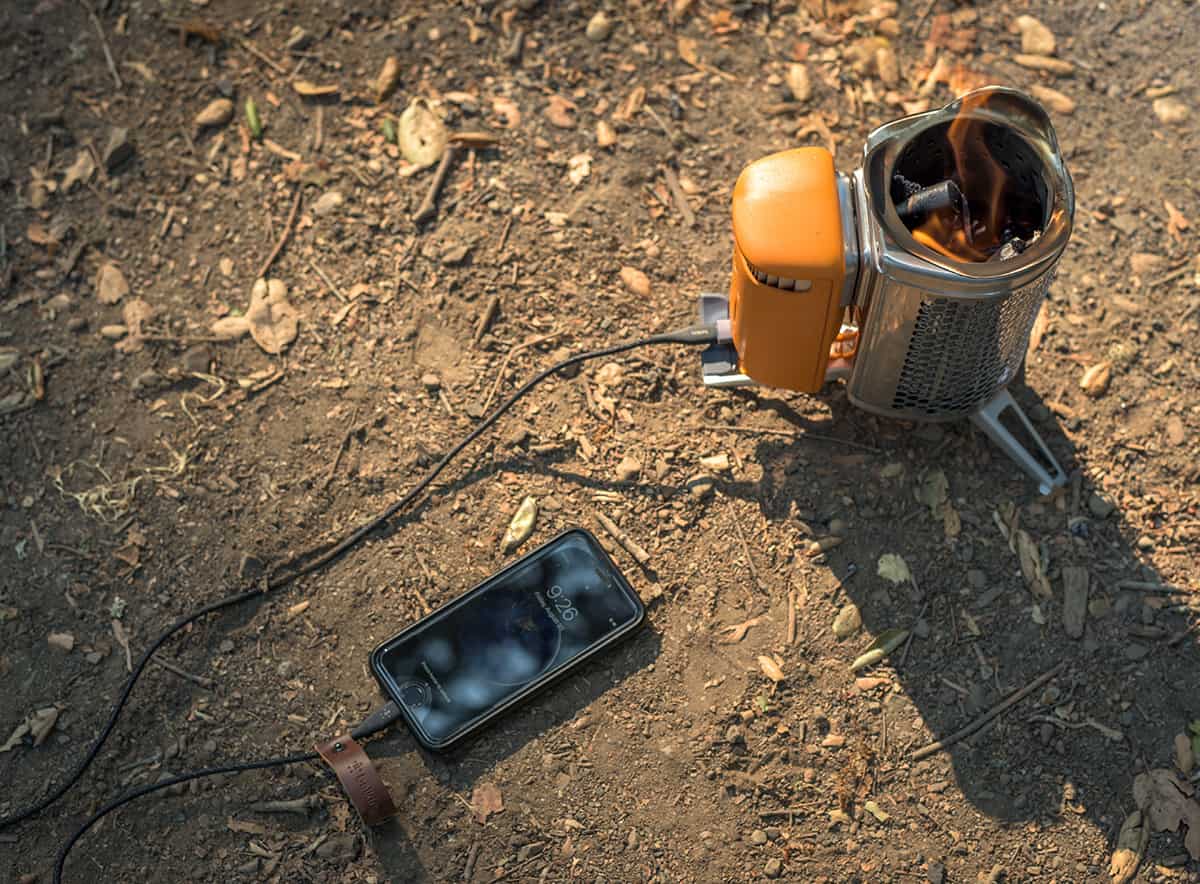 The battery itself can be charged in two ways. First, as it is a power bank, it can be charged via USB at home, prior to going out on the field. Secondly, it can be charged via heat from the combustion chamber using wood as fuel.
When charging with fire, it can take up to 1 ½ hours to get a full charge on the battery. And that requires continuous feeding of fuel into the combustion chamber. For me, it's typically 15 to 20 small pieces of dry wood, refueling about 3-4 times.
The battery can charge devices while burning fuel. So, if you have the time, you can essentially have unlimited charging capability if there is enough fuel around you to use. The battery can also be detached from the stove and used as a portable power bank.
Cooking
In terms of cooking, the Biolite Campstove 2 essentially functions like most portable campstoves. Cook times depend greatly on the type of fuel being used.
For the Biolite, very dry, finger-width wood pieces at 3 to 6 inches in length work best. It is important not to overfill the combustion chamber, especially when getting the fire started.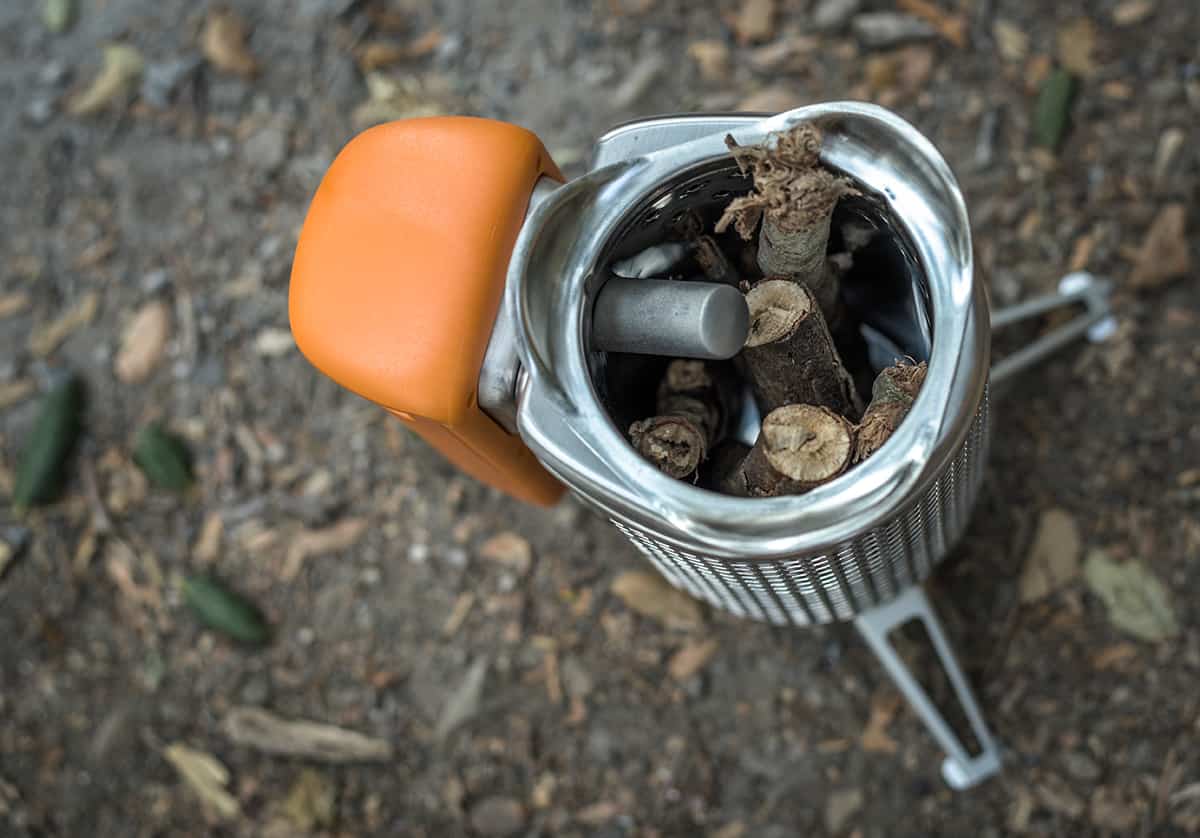 Start with a few pieces of wood to start and continue feeding it with fuel as necessary.
Once the fire gets going, turn the fan higher to increase the flame size, then bring it back down to a comfortable cooking flame.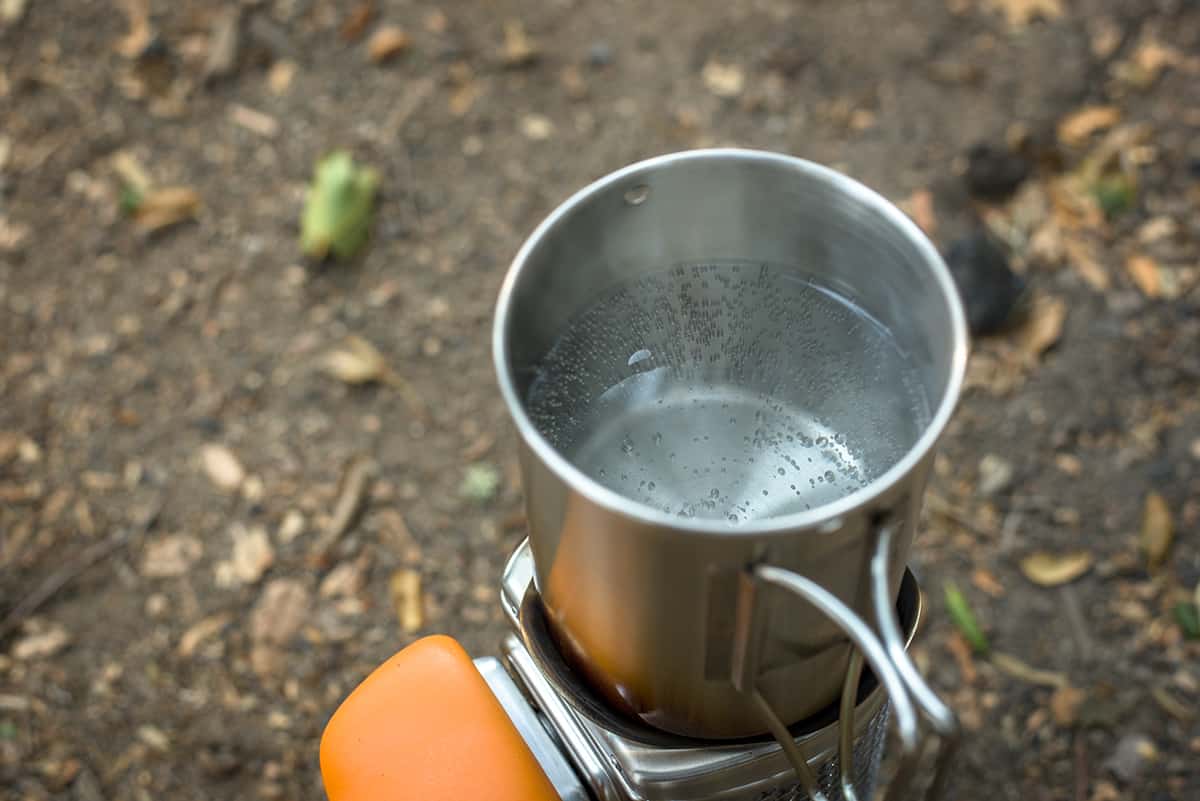 It takes me about 15 minutes to boil 2 liters of water. And the flame can get large enough to cook steaks and full meals very nicely.
While the supporting legs on the Biolite Campstove 2 are stable, the area which the cooking item rests on isn't very large. So, use caution when using a large cast iron pan or anything that might be too top heavy.
Portability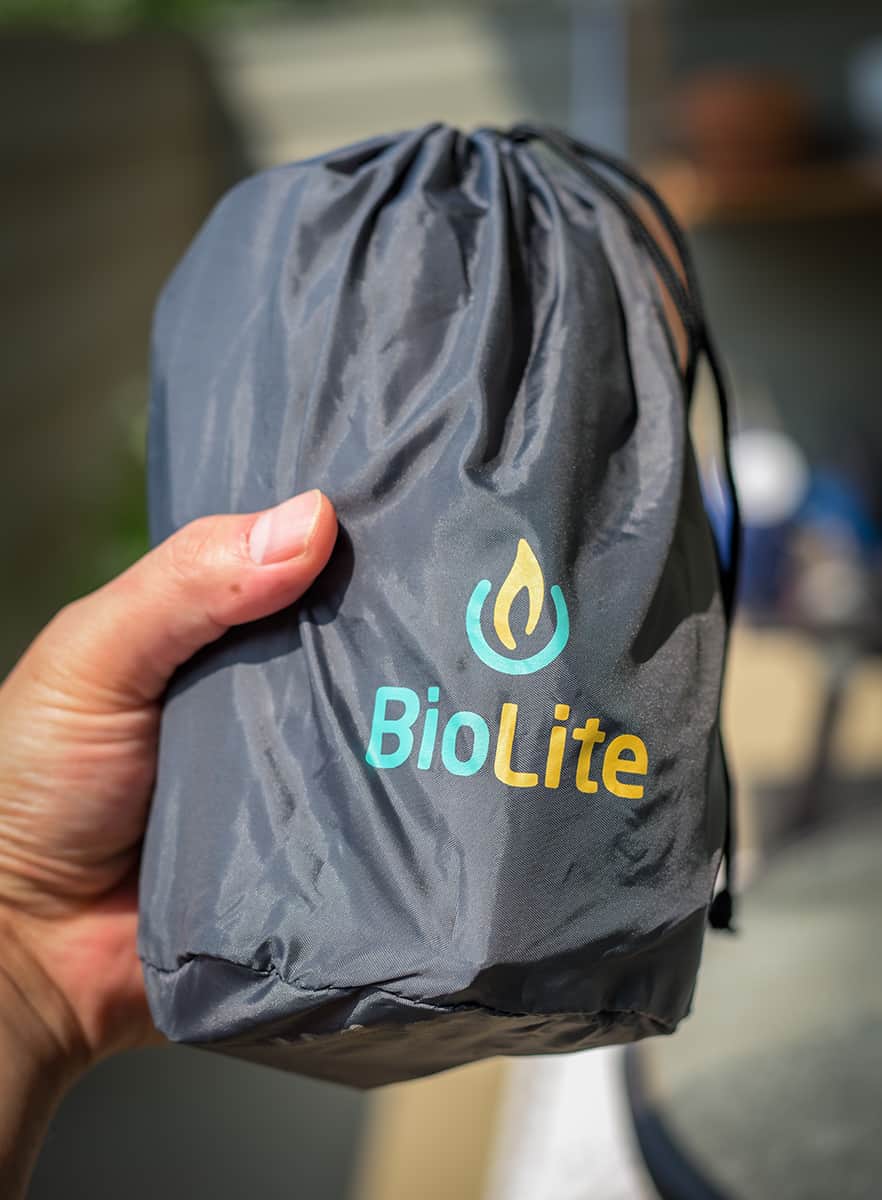 At 2 lbs and 5" x 8" in packed size, the Biolite Campstove 2 can easily fit into a 32 oz canister holder and carried along in a pack. The nylon carry bag maks it easy to pack up.
It's fairly lightweight for a camp stove and small enough to carry on long hikes.
Is it safe?
Some customers have voiced concern over the danger of having a battery as part of a stove. The design of the Biolite 2 intentionally keeps the battery away from the flame and the internal fans regulate the heat absorbed by the thermoelectric generator. The Biolite Campstove 2 is very safe and has undergone rigorous testing.
---
---
---
---
---
What I like about my Biolite Campstove 2
So, while it isn't perfect, the concept behind the Biolite Campstove 2 is a gamechanger for me.
Sure, it doesn't charge up small devices at thunderbolt speeds and the battery itself isn't very large. But the convenience it adds to my energy-storage planning is pretty invaluable.
As I mentioned before, as long as the battery keeps working and as long as there's enough dry fuel around me, I can potentially have an unlimited energy source. I know that in reality, "unlimited" is unlikely, but this battery has provided many emergency charges for me when other devices weren't available.
And while it isn't my primary source for charging devices, it's definitely a proven back-up device. If my solar power bank is unable to charge because there isn't enough sunlight, I can spend a couple hours to charge it with organic fuel via the Biolite.
Having multiple means for energy is the name of the self-sufficiency game, and the Biolite Campstove 2 is always welcome in my book.
---
---
---
Technical Specs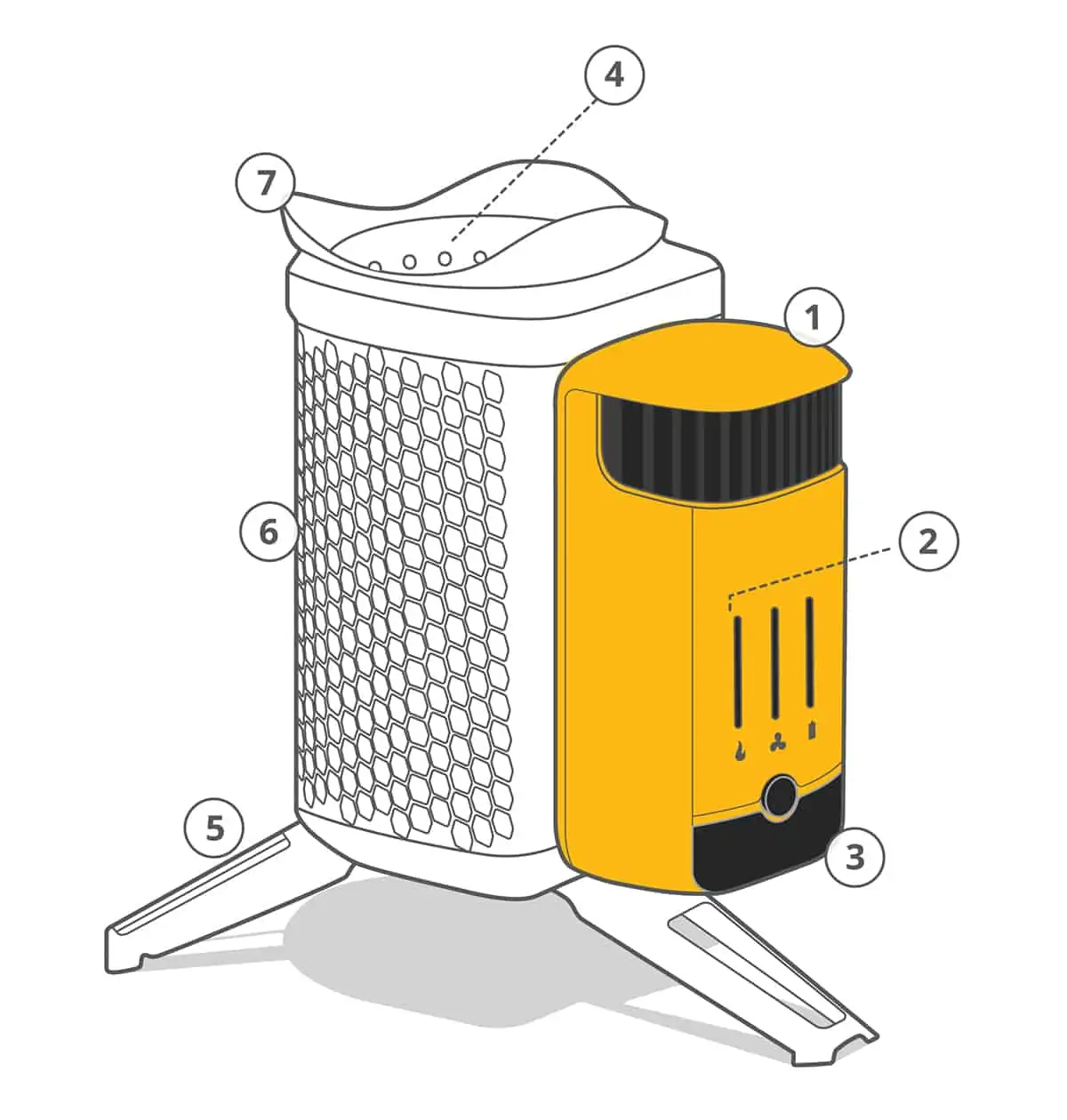 On-Board Battery
Integrated 3200 mAh battery charges devices with or without a live fire
Smart LED Dashboard
Real-time feedback on fire strength, power output and fan speed settings
USB Charge Out With 50% More Power
Updated thermoelectrics create even more electricity from fire
Internal Fan Jets
4 fan speed settings circulate air for improved combustion and efficiency
Lightweight Aluminum Legs
Fold legs up and away for nested portability
Honeycomb Heat Mesh
Protective barrier from the inner burn chamber
Scalloped Pot Stand
Accommodates BioLite KettlePot, Portable Grill and other cookware
---
---
---
---
Battery: 3200 mAh

Boil Time: 4.5 minutes for 1L

Fuel: Biomass (sticks, twigs, pellets)

Compatible Devices: Most USB-chargeable devices (phones, cameras, lights)

4 Fan Speeds

Dimensions: Packed: 5.0" x 7.91" (127mm x 201mm)
---
Thank you for taking the time to read our article on the Biolite Campstove 2. We'd love to hear your feedback in the comments section below. If you've found this article to be useful and are interested in learning more, be sure to sign up for our newsletter.
---