RainFlo 430: Complete Rainwater Harvesting System
---
The RainFlo 430-AG is a complete rainwater harvesting system assembled by RainHarvest.com. Complete with 430-gallon tank, water pump, and pre-filter, this package contains everything you'll need to get up and running.
---
Updated: September 2, 2023
/
---
---
Our team of experts independently researches and tests products to bring you our best recommendation. When you buy through our links, we may get a commission. Read our affiliate disclaimer here.

This article will highlight the compelling benefits of using the RainFlo 430-AG complete rainwater harvesting package by RainHarvest Systems.
For those interested in setting up a rainwater harvesting system, there are certain practical reasons for why getting a complete system upfront makes more sense than buying each part individually. Read on to find out why.
This article will also highlight several other complete packages of varying sizes.
---
---
---
---
---
A Time and Place for DIY
I'm a DIY advocate for most things in my life – home improvement, electronic devices, haircuts.
I just love the idea of being involved with every step of a project, making adjustments as needed, and keeping my skills sharpened for the next one.
It's the independence mindset that most of us self-sufficiency folks are driven by.
But I'm beginning to notice a common problem among us DIY, build-it-yourself, detail-oriented folk that is a bit hard to admit.
That is, recognizing when and where there might be occasions where it's just more practical NOT to do it ourselves.
But I mean practical in the sense that it may save us more time, money, and muscle cramps to just either buy it complete, or hire someone.
With Rainwater Harvesting, a Fresh Start is the Best Start
One particular scenario that I can advocate for starting with a complete system is with rainwater harvesting.
My current rainwater system is highly customized to my liking, complete with overflow valves and extra tanks.
But for someone starting out with not much experience in rainwater harvesting or DIY, for that matter, it just might make sense to buy a complete system rather than piece-by-piece.
While buying each part will allow you to customize the entire system according to your preference, it can't be ignored that there will be some calculating, measuring, and lots of pre-planning involved.
Now, if you don't mind all planning, trial and error, and frankly, mathematics, then you already know what to do. There are some good resources on this website that can lead you to some great online suppliers.
But if you'd rather make it a bit easier on yourself and would like to start collecting rainwater now and customize it a bit later on, then there's no better system to start with than what's being offered on RainHarvest.com.
---
---
---
---
---
The Real Experts in Rainwater Harvesting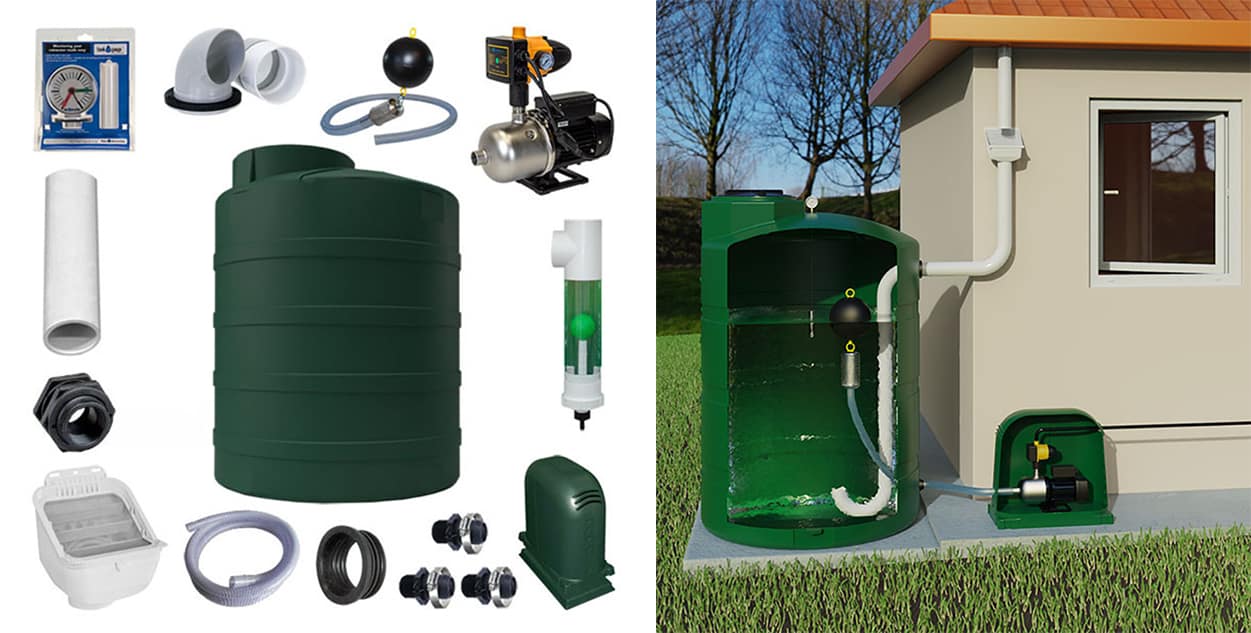 RainHarvest Systems is an online retailer for rainwater harvesting supplies and specializes in both residential and commercial products. They're based out of Georgia, USA and I'm proud to be affiliated with them due to their high-quality supplies and excellent service.
What I'm particularly excited to share with you is their complete rainwater harvesting system packages.
Assembled by experts in the rainwater harvesting field, these packages contain all the necessary components for a fully functional rainwater collection system, all accurately sized and fitted so that you can start collecting rainwater right away.
One of the main problems that beginners encounter is being unsure about the necessary sizes for each component, especially the pump. If the pump's horsepower is too low or too high for the size of your system, it can result in poor water flow or damage to the pump.
All of the components for each package are compatible with each other, saving you time and a bit of frustration.
Now, let's explore one of the premier rainwater harvesting packages in their catalog.
---
---
---
---
---
RainFlo 430-AG: Your Complete Rainwater Harvesting System
The RainFlo 430-AG Collection System is simply one of the best, most complete rainwater harvesting systems available for purchase from any retailer.
The experts at RainHarvest Systems have taken their time in comprising a system that covers everything a rainwater collector would need to harvest large amounts of rainwater for domestic use.
Complete with a 430-gallon above-ground tank, ½ HP pump, pre-filtration system, water gauge, and all the necessary fittings; this package is ready to turn rainfall into a reliable water source.
With a 430-gallon above-ground collection tank, this system is able to accommodate areas with heavy rainfall. And the downspout filter will protect the tank from debris and other problematic contaminants, allowing it to be sued for longer-term water storage.
The ½ HP water pump provides a means for the storage water to be channeled through any water system. At a max of 17 GPM and 34 psi, this pump can handle a variety of uses, including irrigation, gardening, and car washing.
The entire system can also be easily integrated into your home's water filtration system, making the RainFlo 430-AG a significant source of drinking water.
The water meter allows you to monitor the total amount of water you're using throughout the whole system, providing some important data for you to record your water usage.
And finally, all the hoses, adapters, and fittings provide every part you'll need to get this system up and running quickly.
---
---
---
---
---
Start Simple, Expand As You Go

Constructing a rainwater harvesting system from scratch does have its pros – being able to choose each component yourself gives you much more control. But as we iterated earlier, there can be a significant amount of measuring and calculating involved.
The beauty of the RainFlo 430 system is that all that sizing is already done for you. With easy installation instructions included, all you'll need to do is put is set it up.
Once you're familiar with all the parts and all the inner workings of a rainwater harvesting system, should you choose to, you can customize and add additions as you see fit. Perhaps include an overflow tank or route the rainwater to your indoor purification system. But doing so will be much easier and make much more sense once you've understood the basics.
---
---
---
---
---
---
---

---
If you're serious about starting a complete rainwater harvesting system, then head over to Rainharvest Systems to check out the RainFlo 430-AG. Click on the button below to be sent to their product page where you'll get more details on the price and shipping.
---
---
---
---
---
---
430-gallon Graf Herkules Poly Tank
RainFlo ½ HP Pump
Downspout Filter
1" Water Meter
Connection Hardware Kit
---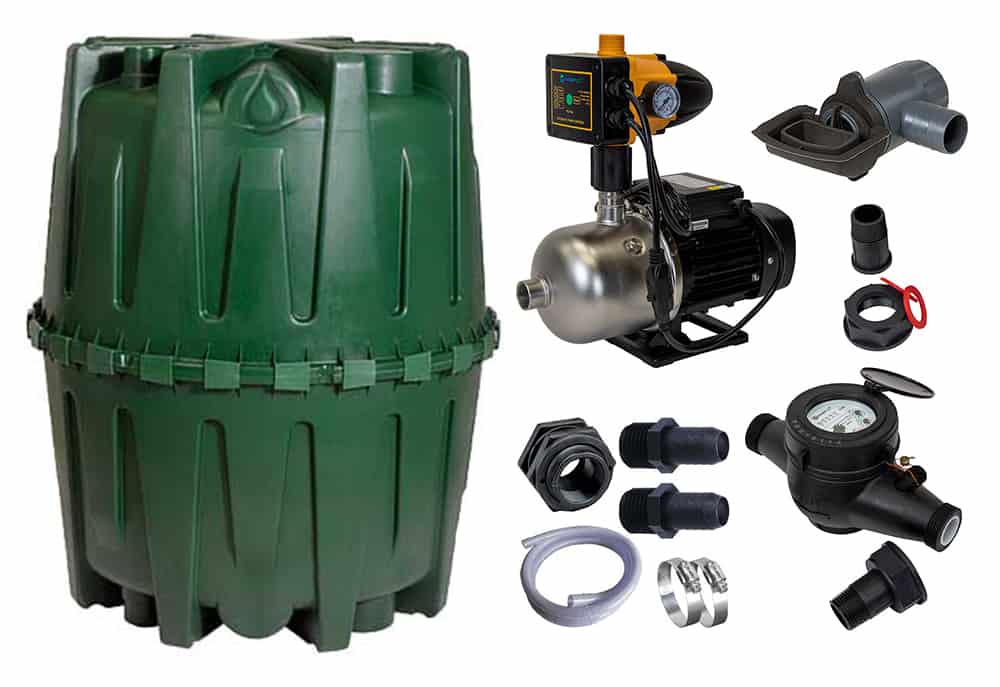 ---
---
---
---
---
---
Other Complete Systems of Varying Sizes
---
---
RainHarvest Systems also has complete systems of varying sizes depending on your needs.
The Graf Mondo package includes a 137-gallon above-ground rain barrel and stand, with a ½ HP pump and a downspout diverter.
The RainFlo Eco School Deluxe package includes a 350-gallon tank, ½ HP pump, and downspout diverter.
And finally, the RainFlo 500 Complete System includes a 500-gallon tank, 1/2 HP water pump and cover, pre-filter, overflow kit, water gauge, and hardware kit.
Check them out below.
---
---
---
---
---
---
137-Gallon Graf Rain Barrel
13" Rain Barrel Stand
1/2 HP Garden Water Pump
Rain Barrel Downspout Filter
---
---
---
350-Gallon Graf Rain Barrel
1/2 HP Garden Water Pump
Rain Barrel Downspout Filter
Pump Connection Kit
---
---
---
500-Gallon Norwesco Rain Barrel
1/2 HP Water Pump
Polyslab Pump Cover
1" Stainless Steel Floating Filter
3" Rain Harvesting Tank Overflow Outlet Kit
3" Rain Harvesting Leaf Eater Advanced
3" Rain Harvesting First Flush Diverter
Rain Harvesting Tank Gauge
Pump Connection Hardware Kit
---
---
Thank you for taking the time to read our article on the RainFlo 430 Complete Rainwater Harvesting System. If you've found this article to be useful and are interested in learning more, be sure to sign up for our newsletter.
---
Latest posts by Jeremiah Zac
(see all)