The best reverse osmosis systems for homes have an efficient flow rate, easily-replaceable and accessible cartridges, durable build and fittings, and a good factory warranty. Some of the top brands are Pelican, Crystal Quest, Aquasana, Homemaster, and Brondell.
---
---
---
---
---
---
---
With the numerous brands of reverse osmosis system on the market, it can be quite difficult to narrow down the best choice for your home.
Nothing is worse than investing a large sum of money into a system that isn't quite specific to your needs, or even worse, is faulty.
While the science behind reverse osmosis is straightforward and doesn't vary much between brands, there are other factors that might cause the decision-making process to be more involved.
Multiple stages, remineralization, post-filtration, and warranty are all features that should be considered. Some might be important to you, while others might be an upsell.
This article breaks down the different features among the most popular and reliable reverse osmosis brands to help you better device which is best for you.
---
---
---
---
---
In this article, we'll cover:
What is the best reverse osmosis system for home use and where can I purchase one?
The science behind Reverse Osmosis - stages and components of an RO system
The benefits of using an RO system and things to consider when purchasing one
How to install and care for your RO system
---
---
---
---
---
Editor's Choice for Best Reverse Osmosis System for Home
---
---
5 Stages
50 Gallons per day
For those who want an effective, reliable RO system that doesn't waste water but provides a decent flow rate, the Pelican RO is perfect. It doesn't occupy too much space and is housed in a single compact unit, making it easy to maintain and replace parts as needed.
---
---
---
---
---
Model

Specs

Vendor
Waterdrop
400 GPD
7 Stages
Aquasana
32 GPD
6 Stages
3M
19 GPD
4 Stages
45-100 PSI
Home Master
7 Stages
40-90 PSI
Brondell
4 Stages
40-120 PSI
Springwell
75 GPD
4 Stages
Crystal Quest
50 GPD

Crystal Quest
50 GPD

iSpring
75 GPD
6 Stages
45-70 PSI

APEC
90 GPD
5 Stages
45-70 PSI
---
---
---
---
The best reverse osmosis system for a home would be one that provides an efficient flow rate, easily-replaceable and accessible cartridges, durable build and fittings, and a good factory warranty.
Brands such as Pelican, Crystal Quest, Aquasana, Homemaster, and Brondell provide just that.
---
---
---
---
---
---
---
---
---
---
---
6 Stages

Sediment
Pre-filter
Carbon Filter
RO Membrane
Polishing
Minerals

Reduces waste
Made in USA
High Output
1 Year Warranty
50 GPD
---
---
---
---
---
---
---
Pelican's RO system is a compact unit that houses all of the filters in an easy-to-maintain chamber and provides its own faucet.
While most RO units are known for excessive water usage, the green design of Pelican's system utilizes 50% less water than other RO systems. In addition, Pelican's 17.9 gallon per day flow rate is much higher than other units on the market. This gives you the most water-efficient RO system available.
The unique housing unit allows for easy replacement of parts and is small enough to fit under the sink without occupying much space.
IS IT FOR ME?
For those who want an effective, reliable RO system that doesn't waste water but provides a decent flow rate, the Pelican RO is perfect. It doesn't occupy too much space and is housed in a single compact unit, making it easy to maintain and replace parts as needed.
---
---
---
---
---
---
---
---
---
---
---
---
---
Smart TDS monitoring panel 
400 GPD Fast Flow
1:1 Low Drain Ratio
7-stage Filtration
Automatic Flushing
---
---
---
---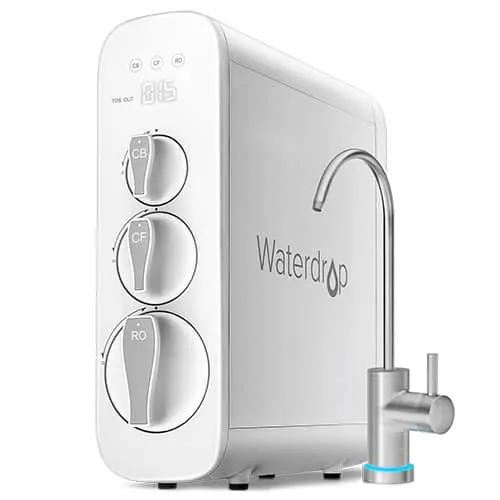 ---
---
---
Waterdrop was founded in 2015, addressing increasing water quality concerns in the United States.
Waterdrop's G3 Reverse Osmosis system improves upon the traditional RO design by introducing many innovative features and solving common problems. A common issue with most RO systems is that there tends to be an excessive amount of water wasted as the RO system is used. The G3 addresses this issue with its 1:1 Low Drain Ration system, saving on water usage by 300%.
While most conventional RO systems are known for their relatively low output, the G3's fast flow system provides an unprecedented 400 gallons per day, that's 1 cup of water every 12 seconds.
The seven-stage filtration system includes a pre-sediment filter, a post-carbon filter, and 3-layer reverse osmosis membrane, all responsible for removing chlorine, sand, rust, solids, and other impurities. Reduces TDS, limescale, heavy metals, bacteria, viruses, and more than 1,000 other harmful contaminants.
The G3 water drop has a smart faucet design, automatic flushing, and digital TDS meter.
IS IT FOR ME?
For those who want the most innovative and intelligently designed RO system which will provide clean water at high output without waste, this RO system is for you.
---
---
---
---
---
---
---
---
---
---
---
Home Master TMAFC-ERP Reverse Osmosis System
---
---
7 Stages
Pressure: 40-90 psi
Filter housing is replaced with filter
Larger fittings and tubing for faster flow
Non-electric pump for improved efficiency
5-year limited warranty
---
---
---
---
---
---
---
The 7-stage home reverse osmosis system by Home Master features an upright design with modular filters for easy access and replacement. While most RO systems require filters alone to be replaced periodically, the Home Master system replaces the entire module.
Modules are required to be replaced periodically anyway, so the Home Master system allows you to do so with the filter. With larger fittings and tubing, along with a non-electric water pump, the Home Master system has a much faster flow and is much more water-efficient than most RO systems.
---
---
---
---
---
---
---
---
---
---
---
---
---
4 Stages

Sediment Filter
Carbon Filter
RO Membrane
Post-Carbon

75 Gallons per day
Live phone support
Lifetime warranty
6-month money-back guarantee
---
---
---
---
---
---
---
Springwell's under-sink RO system is a simple and effective option for home reverse osmosis filtration. The four stages provide all essential filters: sediment, carbon, RO membrane, and post carbon.
The sediment filter blocks large particles and silt, and the carbon filter removes chlorine, chloramine, herbicides, and pesticides.
The RO membrane effectively does what the other filters cant' and removes dissolved solids and heavy metals such as lead, mercury, arsenic, fluoride, iron, and aluminum. Finally, the post carbon filter provides a final cleansing and improves taste.
Springwells RO system provides a high-output flow rate at 75 gallons per day and offers a 6-month money-back guarantee.
IS IT FOR ME?
Springwell's RO system is perfect for those who use large quantities of water throughout the day and want to ensure the cleanest water possible at all times.
---
---
---
---
---
---
---
---
---
---
---
---
---
4 stage

sediment pre-filter
Granulated Activated Carbon filter
RO membrane module
carbon block post-filter

Temperature Range: 40 - 100 F
Pressure Range: 40 - 100 psi
Flow Rate: 18.95 gpd
NSF Certified
---
---
---
---
---
---
---
The 4-stage Reverse Osmosis system by 3M joins our list of the best reverse osmosis system for home due to its excellent build quality, superb customer support, and high output.
Cartridges are self-contained and easily replaceable. There is a built-in shut-off valve that allows for changing the filters without shutting off the water supply.
IS IT FOR ME?
For those who want the build and efficiency of a reliable brand, the 3M under-sink RO system with holding tank might be for you.
---
---
---
---
---
---
---
---
---
---
---
---
---
50 Gallons per day
2 Gallon holding tank
15 levels of purification
1-year warranty
---
---
---
---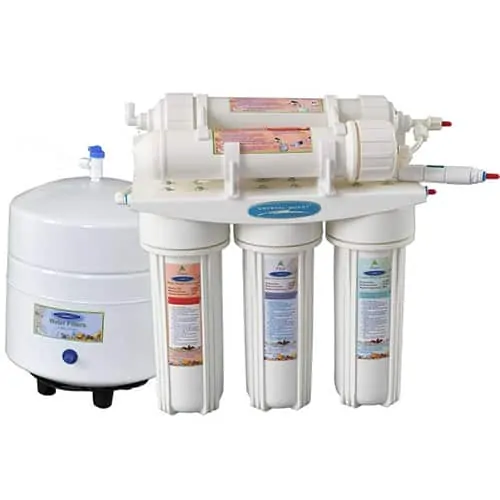 ---
---
---
Crystal Quest features an under-the-sink, complete RO system which delivers 50 gallons of perfectly purified water per day through a series of complex filtration layers.
Crystal Quest has designed a system which involves 15 levels of purification resulting in the absolute cleanest water possible. With a 2-gallon pressurized holding tank, this RO system will ensure properly pressurized water at all times. All replacement filters can be purchased through the Crystal Quest website.
IS IT FOR ME?
For those interested in the highest level of purification ingenuity, Crystal Quest provides a system that utilizes all of the latest innovations in reverse osmosis technology.
---
---
---
---
---
---
---
---
---
---
---
---
---
50 Gallons per day
10 levels of filtration
1-year warranty
---
---
---
---
---
---
---
Crystal Quest is a United States manufacturer for residential and commercial filtration products and has been distributing to industries worldwide for over 30 years.
The RO countertop system is a best seller in the Crystal Quest catalog and offers a reliable, compact option for reverse osmosis filtration. With its simple set up, the RO filters sit directly on the countertop with its own built-in faucet. The filter itself connects directly to the kitchen sink for very easy installation and maintenance.
All replacement filters can be purchased through the Crystal Quest website.
IS IT FOR ME?
This countertop RO system is ideal for those who want an affordable, simple reverse osmosis set up that can be easily installed and that might not have enough to house a larger unit under the sink.
---
---
---
---
---
---
---
---
---
---
---
---
---
6 Stages

RO membrane
Activated Carbon
Catalytic Carbon
Ion Exchange
Sub-micron Filtration
Remineralization

Live phone support
2-year warranty
Provides 13-32 Gallons per day
---
---
---
---
---
---
---
Aquasana is a manufacturing company based out of Austin, TX, and specializes in innovative filtering technology.
This reverse osmosis system removes contaminants through the RO membrane and then uses claryum technology to further filter the water.
Through ion exchange, heavy metals such as lead and mercury are completely removed. Finally, ph balance is raised as healthy, essential minerals are reintroduced to the water, providing a clean, crisp taste.
This combination of reverse osmosis and post filtration removes 95% of fluoride from the water supply.
IS IT FOR ME?
For those who want a highly effective, high-output RO system with great customer service and warranty, Aquasana's OPTIMH20 provides just that.
---
---
---
---
---
---
---
---
---
---
---
Brondell RO Circle Water Saving Reverse Osmosis System
---
---
4 Stages

Sediment Filter
Pre Carbon
RO Membrane
Post Carbon

Pressure: 40-120 psi
Patented water-saving technology - 10 times more water efficient
Clean, space-saving design
---
---
---
---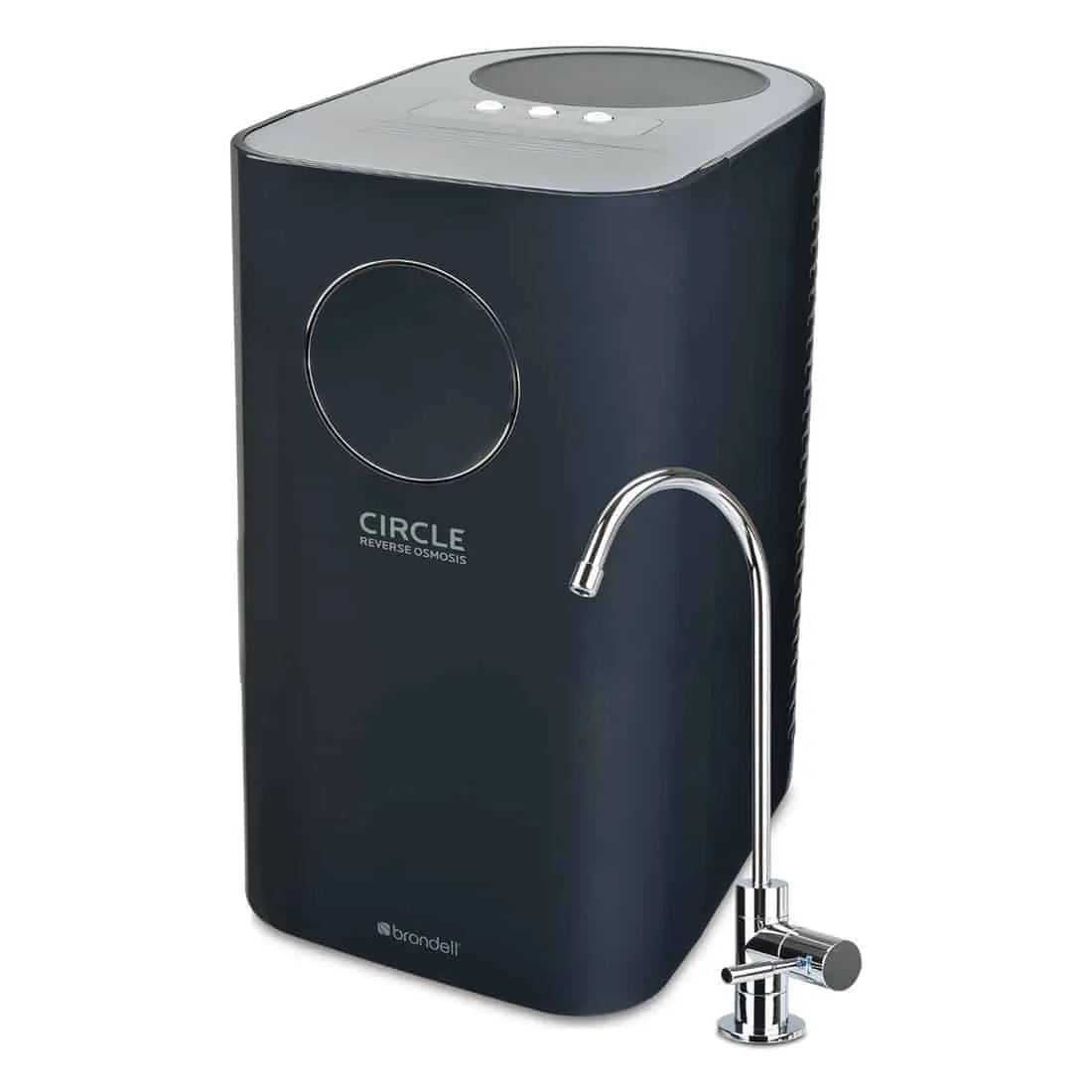 ---
---
---
Brondell's Circle reverse osmosis system features 4 essential stages including the sediment filter, the pre-carbon filter, the RO membrane, and the post-carbon filter.
The Circle can handle a wide range of water pressures at 40-120 psi. What makes the Circle unique is its clean, space-saving design. At 13" x 9" x 16", the rectangular tower doesn't have any filters or tubing exposed and fits nicely underneath the sink.
Brondell prides itself in manufacturing an RO system that doesn't waste as much water as most systems. With their patented water-saving technology, the Circle is 10 times more water efficient than the average RO system on the market.
---
---
---
---
---
---
---
---
---
---
---
APEC Top Tier 90 GPD Reverse Osmosis System
---
---
5 Stages

Sediment Filter
1st Carbon Block
2nd Carbon Bloack
RO Membrane
Refining Carbon Filter

Pressure: 45-70 psi
90 Gallon per day capacity
2 Year Warranty
Made in the USA
---
---
---
---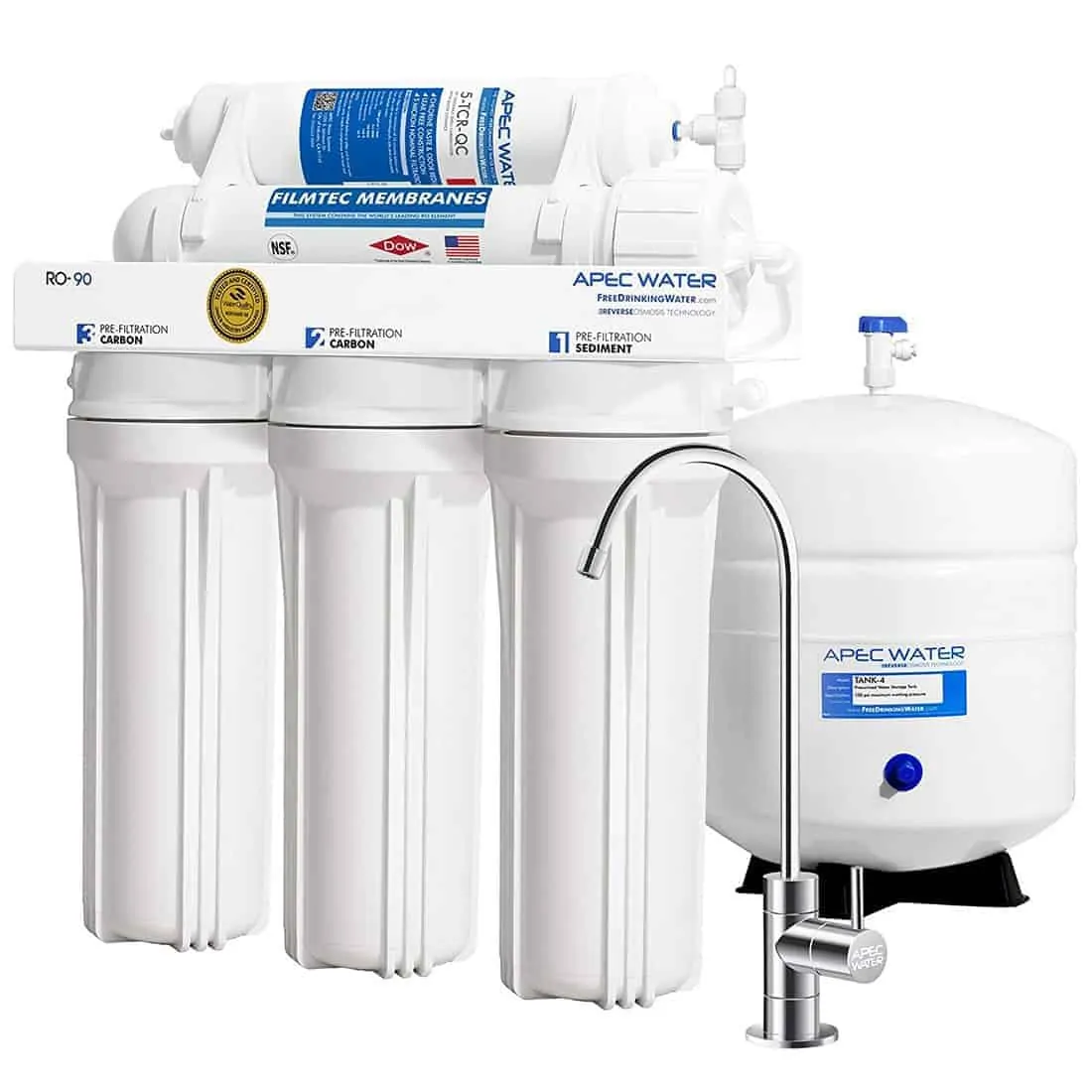 ---
---
---
The RO-90 features a sediment filter, 2 carbon block filters, the RO membrane, and a final refining carbon filter to polish the water's taste before exiting the faucet. At a high 90-gallon per day capacity, this RO system provides enough purified water for a whole household to meet its daily needs, and then some. APEC prides itself in manufacturing and assembling all its parts in the United States.
The APEC RO-90 Reverse Osmosis system is well designed and engineered and claims the title of being the "most durable system in the industry". Its JG quick connect fittings allow for secure and leak-free seals. Its extra-large capacity filters allow for 2x the contaminant removing capacity and thus less frequent filter changes.
The APEC RO-90 comes with a lead-free faucet to ensure compatibility upon installation. With a lifetime of support and 2-year warranty, it is clear that APEC has covered just about everything in providing a quality experience for consumers. Because of its excellent support team and standing reputation of being an industrial-quality RO system at the consumer-level cost, the APEC RO-90 system remains one of our top choices for best reverse osmosis system for home use.
More models by APEC:
---
---
---
---
---
---
---
---
---
---
---
iSpring 6-Stage High Capacity Under Sink Reverse Osmosis System
---
---
6 Stages

Sediment Filter
GAC Carbon
CTO Carbon
RO Membrane
Post Carbon
pH Filter

Pressure: 45-70 psi
Alkaline Remineralization raises pH level and improves taste
75 Gallon per day capacity
Live phone support
1-year money back guarantee
---
---
---
---
---
---
---
The 6-stage, high-capacity Reverse Osmosis system by iSpring features a remineralization filter which raises alkalinity at the final stage. With a 75-gallon per-day capacity, this RO system can produce a large enough volume of purified water to support an entire household. PSI range is at 45-70. iSpring offers a 1-year money back guarantee and live phone support for their products.
The 1st stage filter features a transparent housing unit so that the filter is visible for when replacement is needed. Filters are easily replaced by unscrewing the housing unit by hand to access the filter. With 6 stages of different filter sizes, the full range of particles are filtered through providing the cleanest, purest water possible.
The iSpring RO system is widely used in many residential homes across the United States and remains one of the best selling RO systems online. Its build quality ensures optimum efficiency for providing clean water for an entire household and the excellent company support provides much needed assurance for all users.
More models by iSpring:
---
---
---
---
---
Read Also
---
---
---
---
How Does Reverse Osmosis Work?
---
---
---
---
Osmosis is the process of equalizing the concentration of particles in water by utilizing a permeable protein membrane.
When water passes through the membrane, the concentration of dissolved particles on either side of the membrane become equal.
While the protein-membrane allows water molecules to pass through, it prevents larger molecules like minerals, salts and bacteria from diffusing through the membrane.
Hence, an equilibrium is reached as the water molecules naturally flows from the area with high water potential to the area with a low water potential until the concentration is equal on both sides.
In contrast, reverse osmosis involves applying external pressure to reverse the natural flow of water and prevent an equilibrium from being formed.
Through reverse osmosis, pressure is applied so that concentrated water is forced through the membrane allowing particle-free water to emerge on the other side.
(A) Applied Pressure
(B) Concentrated Water
(C) Dissolved Particles
(D) Membrane
(E) Clean Water
(F) Osmotic Pressure
---
---
---
---
---
---
---
---
---
---
Stages of Reverse Osmosis
---
---
A reverse osmosis system usually consists of three phases – pretreatment, reverse osmosis and post treatment.
Some RO systems may include additional stages which are optional. As water travels through each stage, a different type of treatment process is applied before the water is ready to come out of the faucet for consumption.
We'll explain the purpose of each stage in this section:
Sediment Filter - The dirty or contaminated water is first pre-filtered with a sediment filter to remove larger trapped particles, including rust and calcium carbonate.

Sediments and other particulate matter like dirt, silt, and rust affect the taste and appearance of water.

The sediment filter also acts to protect the filters that come after it by removing contaminants that could affect them. Because this filter is the first to come in contact with the water, it requires the most frequent replacement and should be done so every 6 months with regular use.
Carbon Filter with Activated Carbon - The water is pre-filtered with a carbon filter. The activated carbon filters out chlorine, oils and trapped organic chemicals which can attack and degrade the thin film composite membrane used for the reverse osmosis filter.

The oils can plug the reverse osmosis membrane and chlorine can eat the pores on the membrane, thus increasing the flow rate and allowing more contaminants to pass through as the pores on the membrane become larger.

This filter should be replaced every year with regular use.
Reverse Osmosis Membrane - This is where reverse osmosis takes place, removing most contaminants. The reverse osmosis membrane removes organic and inorganic compounds including fluoride, arsenic, lead, parasitic cysts and copper.

It also greatly reduces impurities known as Total Dissolved Solids

(TDS) which comprise inorganic salts such as calcium, magnesium and sodium.
Remineralizing Filter - As water purified by reverse osmosis is highly pure and slightly acidic, a remineralizing filter is used to introduce healthy minerals, mainly calcium and magnesium, which also balances the pH and improves the taste.
Storage Tank - This is where the water is stored after it has gone through the major stages of the purification process. In most systems, it is ready to be released through the faucet. Other systems might include additional stages.
UV Filter (Optional) - The UV filter protects against biological contaminants by destroying microorganisms including harmful bacteria, E. coli, viruses, fungi and microbes.

The UV rays penetrate harmful pathogens, destroying illness-causing microorganisms by attacking their genetic core (DNA).
Color Changing Resin Deionization Filter (Optional) - The Color Changing Resin Deionization Filter removes all the remaining Total Dissolved Solids (TDS) from the membrane filtered water.

There is usually a small amount of TDS left in the water after being filtered by the reverse osmosis membrane.

This stage is required when the water is to be used in aquariums as lowering TDS for all aquatic animals is very important for osmotic regulation and hydration.
Final Carbon Filter - The final carbon filter, also known as a "polishing" filter, removes any tastes and odors the water may have picked up from the storage tank.

The slightly acidic water resulting from the reverse osmosis stage may dissolve some rubber in the storage tank which the final carbon filter removes.
---
---
---
---
---
What Contaminants are Removed?
---
---
Reverse osmosis removes a variety of contaminants. Reverse osmosis has the capability to remove up to 99%+ of the dissolved salts or ions, particles, organics, bacteria and pyrogens from untreated water. However, reverse osmosis is not efficient enough to remove 100% of bacteria and viruses, so UV filters may be used with RO systems.
The following tables gives a summary of some inorganic salts removed along with their percentages.
---
---
---
---
---
| | |
| --- | --- |
| Element | Percentage Removed |
| Sodium | 85 - 94% |
| Sulfate | 96 - 98% |
| Calcium | 94 - 98% |
| Potassium | 85 - 95% |
| Nitrate | 60 - 75% |
| Iron | 94 - 98% |
| Zinc | 95 - 98% |
| Mercury | 95 - 98% |
| Selenium | 94 - 96% |
| Phosphate | 96 - 98% |
| Lead | 95 - 98% |
| Arsenic | 92 - 96% |
| Magnesium | 94 - 98% |
| Nickel | 96 - 98% |
| Fluoride | 85 - 92% |
| Manganese | 94 - 98% |
| Cadmium | 95 - 98% |
| Barium | 95 - 98% |
| Cyanide | 84 - 92% |
| Chloride | 85 - 92% |
---
---
---
---
---
---
---
---
---
---
Basic Components of an RO System
---
---
RO systems consist of five basic components:
Pressure Vessels and Membranes - Membranes are the fundamental parts of RO systems. Various proteins make up the membrane elements depending on the kind of water that is input and how clear the untreated water is.

There are different membrane elements for brackish water, seawater, hospital-grade infection, and specific contaminants.

The size and number of membranes required in a reverse osmosis system will depend on the size of the task – whether municipal, commercial or industrial.


Reverse Osmosis Skid - Reverse osmosis skids are used to make RO systems durable. These skids are a powder coated, carbon steel frame used to mount all the components on.

It is designed and built to withstand the heavy vibration of high-pressure pumps.


Cartridge Filter - Cartridge filters are used to pre-filter the water and remove particles that are large enough to damage the membranes.

A five-micron spun polypropylene filter is usually used as the cartridge filter, but it can vary upon request. The cartridge comes in a durable casing to handle pressure from the main feed and booster pumps.


Reverse Osmosis High Pressure Pump - High pressure pumps are crucial for the rejection rates of RO systems. High-grade pumps are essential for a feasible rejection rate in commercial and industrial settings.

The high-pressure pump needs to be matched to the membrane size and quantity as well.

In general, the higher the horsepower of the pump, the higher the rejection rates of the reverse osmosis membrane.


Control Panel - A control panel is needed for the human operator to control the reverse osmosis system.

Advanced PLCs or solid-state microprocessors are used depending on how advanced the controls need to be. In an industrial setting, a control panel can be used to control and manage multiple RO systems simultaneously.
In addition to these five basic components, other components can be built onto or into RO systems based on your requirements.
---
---
---
---
---
Reverse Osmosis Water Benefits
---
---
---
---
RO systems provide clean, refreshing water and they have many benefits over regular filtration systems.
Removes all types of contaminants - RO systems are 99% efficient in removing all types of contaminants to produce clean and safe drinking water. The semi-permeable membrane isolates contaminants from water including bacteria, viruses, dirt, ions and heavy metals.
Removes odor from water - While regular filtration systems do not remove odor from water, RO systems have a carbon filter with activated carbon that attracts and filters out odor-causing contaminants such as chlorine and iodine.
Very easy to maintain - While you are required to wash and rinse regular filtration systems often, the filters in RO systems are washed regularly by the system itself. The concept of reverse osmosis makes the system easy for households to maintain and keep running for a long time.
Long lasting and economical - RO systems generally last longer than regular filtration systems. As the membranes are washed by the rinse water itself, RO systems can last for a couple of years. RO systems are also very economical as they require minimal maintenance unlike regular filtration systems that require regular maintenance.
Option for UV Radiation - UV radiation is known to be the most effective method for disinfecting bacteria from water. While regular filtration systems do not use UV lamps, some RO systems may use UV lamps to kill bacteria and viruses.
Removes inorganic molecules - Although regular filtration systems with carbon cartridges are unable to remove inorganic compounds, RO systems can filter out inorganic molecules with the membrane. Inorganic molecules such as inorganic phosphorus, inorganic carbon and inorganic nitrogen found in brackish water can result in the formation of hard water.
Inorganic chemical contaminants such as bleach and curing agents may also be present in the source water meant for domestic consumption.
---
---
---
---
---
Things to Consider when Purchasing an RO System
---
---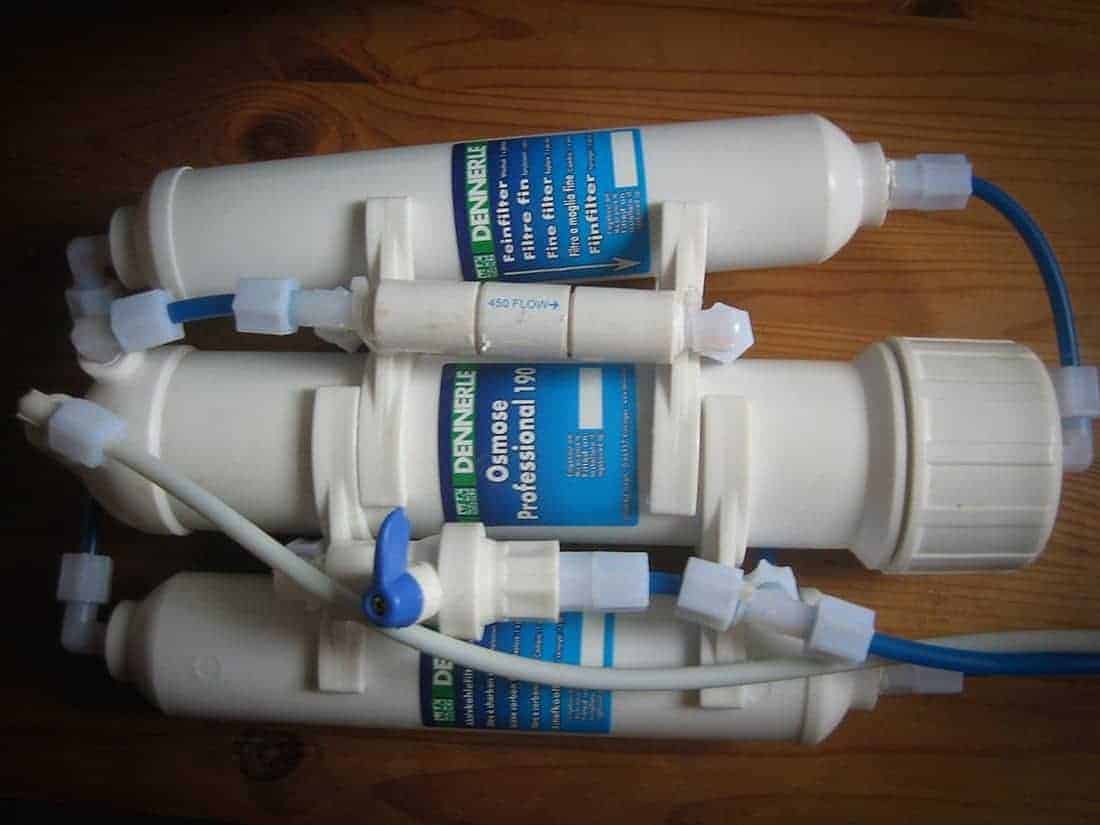 ---
---
RO systems are effective at purifying water, but they vary in efficiency. While some systems work well with well water, others do not. Here are some things to consider when purchasing a reverse osmosis system.
The Water Source
There are generally two main types of source water – city water and well water source.
In urban areas, the water source comes from a water treatment plant, so the water will contain less contamination. Thus, an entry level of reverse osmosis water filter systems is sufficient for homes in urban areas.
In sub-urban areas, private wells are usually the main water source, so the water is not treated beforehand and there is a relatively high concentration of contaminants – including living microorganisms, virus and bacteria.
To eliminate these contaminants, you will require a reverse osmosis system with a UV light sterilizer. Read our article on UV water purifiers for home use.
Required Stages of Filtration
RO systems typically have 3, 4 or 5 stages of filtration. Systems with 4 stages of filtration are usually recommended for most applications.
However, if you live in a sub-urban area with well as your main water source, the water will have high levels of sediment to a 5-stage reverse osmosis system is recommended which provides an additional pre-filtration to remove the sediments.
Water Pressure
Sufficient water pressure is required to push the source water through the membrane to filter out the contaminants. While most urban houses meet the minimum water pressure requirement of 40 PSI (pounds per square inch), if the source water pressure is less, you will need a system that comes with a booster pump.
Some systems consisting of a booster pump are suitable for city water while some are suitable for well water instead.
The Quality of Filtration
RO systems have different rejection ratios due to technology differences. The pre-filters and post filters may help determine the effectiveness of the entire system. Most companies claim that their systems can remove up to 99% of all contaminants.
The effectiveness can be gauged using a total dissolved solid (TDS) meter. You can also check to see if the reverse osmosis system is certified by a notified body. WQA and NFS are nonprofit notified bodies based in US that test and certify RO systems.
How Much Water is Needed
The flow rate of the system will determine how much water you can get on average. The flow rate depends on many factors including the water pressure and the water temperature.
Keep in mind that the actual production rate (GPD - gallons per day) may be 60% to 80% of the system GPD rating as ideal optimum conditions are hard to meet.
A 50 GPD-rated system will be adequate for a common household, but a huge family of 8 will require a system with twice the GDP rating at 90-100 GPD.
Your Budget
There are two types of cost you should consider – the initial cost and the maintenance cost. The initial cost is the initial purchase price of the system whereas the maintenance cost involves replacement of filters and faulty parts.
Hence, if frequent replacement of filters is required, the maintenance cost will also be higher.
---
---
---
---
---
Reverse Osmosis Installation Guide
---
---
---
---
The installation process of RO systems is simple and can be done with little help.
Find the Best Location
RO systems are generally made to fit under the sink. You should choose a location that is convenient to operate. Keep in mind that the cold-water valve should be shut during the installation as the system has to be installed along the cold-water line.
Faucet Installation
You can easily mount your faucet if your sink has extra holes for faucets. If your sink does not have an extra hole, you will have to drill a hole. Be mindful of the material your sink is made from when drilling – whether stainless steel or porcelain. If the hole is covered by a chrome plate, simply remove the chrome plate and mount the faucet.
For convenience, the faucet spout should be allowed to move freely. Follow these steps to install the faucet.
Insert the faucet stem into the hole


If you are installing a non-air gap faucet, fit the flat rubber washer. Ignore this step if you are installing an air-gap faucet


Slide on the big chrome base plate and the big rubber washer underneath the faucet body


Slide the plastic washer from under the sink


Screw on the brass hex tightly once the faucet is well aligned
Drain Saddle Installation
Place the drain saddle preferably at the highest possible point above the water in the trap and far from the waste disposal drains.
Drill a hole of approximately a 1/4 inch in diameter through a side of the pipe once you identify the point of your drain saddle.


Attach the drain clamp with its hole in line with the hole in the pipe


Tighten the clamp well enough for easy removal when you want to do maintenance
Tube Connections
The tank tube is connected from the filter to the tank valve.


The faucet tube is fixed from the faucet bottom to the fitting adjacent to the tank and tightened firmly.


The drain fitting is behind the membrane system. The drain tube is kept short and connected to the drain saddle.
---
---
---
---
---
---
---
---
---
---
---
---
Proper maintenance can allow high-quality RO systems to last for many years. Proper maintenance involves regular filter replacements and an annual sanitization of the system. The sediment filter, carbon filter and polishing filter will have to be replaced annually while the reverse osmosis membrane can be replaced every two to three years. Note that failure to replace filters can cause damage to the system and decrease the water production.
---
---
---
---
---
---
---
You may have to consult the owner's manual for details on how to sanitize the system. These are the general steps:
Turn off the main valve
Drain out all the water from the faucet
Detach the sediment and carbon filters
Detach the reverse osmosis membrane
Screw the housings back in place without the filters
Pour 1 cup of hydrogen peroxide into the stage one housing
Reattach the all the tube connections
Turn on the main valve
Let the system run through at least 2 cycles without the filters
Turn off the main valve
Install the new filters
Allow the system to run through 1 complete cycle
---
---
---
---
---
---
---
How Much Water Do RO Systems Waste?
An RO system does use more water during operation than it does produce for drinking, but it's actually far more water efficient than most household appliances such as washing machines and dishwashers. RO systems use water for self-cleaning and for washing away impurities. In terms of water bill expense, it equals to about 3 toilet flushes a day.
How Long Will a Reverse Osmosis Unit last?
If an RO unit properly maintained and its parts are replaced at their required intervals, it can last a lifetime. RO membranes typically need to be replaced every 3-5 years while each individual filter might need to be replaced annually.
Do Reverse Osmosis Units Require Electricity?
Reverse osmosis systems run entirely on water pressure, not electricity. Electricity will be required to power a UV lamp in the system includes one.
---
---
---
---
---
---
Reverse osmosis has proven to be an efficient and cost effective way of purifying water of bacteria, viruses, sediment, solvents, and chemicals. Many RO systems come with several additional stages for extra features and filtration. While some of these features are certainly beneficial, the core components of an effective RO system are the sediment and carbon filters, the RO membrane, and the holding tank. Be sure to select a system that best fits your needs and your budget.
---
---
---
---
---
Thank you for taking the time to read our article on the best reverse osmosis system for home use. We'd love to hear your feedback in the comments section below. If you've found this article to be useful and are interested in learning more, be sure to sign up for our newsletter.
worldwaterreserve.com is a participant in the Amazon Services LLC Associates Program, an affiliate advertising program designed to provide a means for sites to earn advertising fees by advertising and linking to amazon.com. Some links may be affiliate links.
---
Latest posts by Jeremiah Castelo
(see all)