The best UV water purifiers for home use have an ultraviolet lamp housed in a stainless steel chamber and operate at an adequate flow rate. Some UV purifiers come as part of a whole house filtration system feature carbon and sediment filtration in addition to pathogen removal.
---
---
UV purification is one of the most powerful methods of eliminating harmful pathogens from water.
Installing a good UV purifier to a home water supply can ensure clean, microorganism-free water for the entire family to safely consume.
But what are some of the factors to consider when selecting the right UV purifier?
Important factors such as flow rate, wattage, pressure range, and brand name will ensure the best possible set-up for your home.
This article will cover the important factors you should know when choosing the best UV water purifier.
In this article, we'll cover:
Reviews of the best UV water purifiers for home use
The science behind UV purification
The components of a UV purification system and how to maintain it properly
---
---
---
---
---
Editor's Choice for Best UV Purifier
---
---
---
600k or 1M Gallons
16 or 34 GPM
Lifetime Warranty
Read our complete review
---
---
---
---
---
---
---
---
---
---
---
Model

Specs

Vendor

Aquasana UV Filter
UV-purifier
Activated Carbon Filter
7 GPM

Springwell UV Purifier
UV-purifier
15 GPM
3-Year Warranty

Crystal Quest UV
UV-purifier
15 GPM
3-Year Warranty

Pelican UV
9-16 GPM
304 stainless steel
100-240V

HQUA OWS-124
12 GPM
120 Volts
55 Watts
Bluonics
12 GPM
120 Volts
55 Watts
---
---
600k or 1M Gallon Capacity
Flow Rate: 16 or 34 GPM
Pressure Range: 25 - 80 PSI
40 or 70 Watts
Lifetime Warranty
---
---
---
---
---
---
Pentair is a leader in the clean water industry, providing sustainable solutions to homeowners, businesses, and NGOs around the world.
The Pelican whole house carbon filter with UV purification is one of the most effective water treatment devices for the consumer. Its premium fittings and parts make it long-lasting and virtually maintenance-free while still being affordable to the homeowner.
The large diameter of the tank holds a significant amount of water filtration carbon media increasing the overall performance and lifespan. Parts are affordable and easily replaceable.
The Pelican Carbon Series Systems use an up-flow design and do not waste any water while filtering and conditioning the water for your entire home. While other systems use a down-flow design requiring them to backwash once or twice a week wasting 100-300 gallons of water each time they backwash.
With the UV attachment, the entire unit removes sediment, chlorine, chloramines, pesticides, herbicides, pharmaceuticals, industrial solvents, and all forms of bacteria, viruses, and pathogens.
IS IT FOR ME?
For those who want a top-of-the-line, low-maintenance, low water waste, whole-house water filter that will remove all pathogens, the Pelican PC-600 might be for you. It's powerful enough to filter an entire home from sediment and pathogens, thus may be perfect for homes on well water.
---
---
---
---
---
---
---
---
---
---
---
---
---
Whole House Water Filter

Sediment Filter
Copper-zinc for scale reduction
Activated Carbon Filter
Post Filter
UV-purifier

7 GPM
5-Year Warranty
---
---
---
---
---
---
Aquasana is a manufacturing company based out of Austin, TX and specializes in innovative filtering technology.
The Aquasana Whole House Rhino is a robust filter that removes pathogens such as bacteria and viruses; heavy metals such as lead and mercury; organic chemicals such as herbicides, pesticides and VOCs, and industrial solvents.
The pre-sediment filter removes larger particles while the activated carbon filter removes finer particles and improves the pH balance.
The UV filter eliminates any trace of harmful microorganisms that may lurk in the water supply.
An additional salt-free water conditioner may be added to reduce water hardness for well owners.
IS IT FOR ME?
For home owners who rely on well water and are concerned about harmful microorganisms from the ground, the Rhino w/UV filter is a robust whole house system that will guarantee pathogen-free water for the entire home.
---
---
---
---
---
---
---
---
---
---
---
---
---
UV-purifier
15 GPM
Operating pressure:

10-150 PSI

Operating temp:

36-120 F

3-Year Warranty
---
---
---
---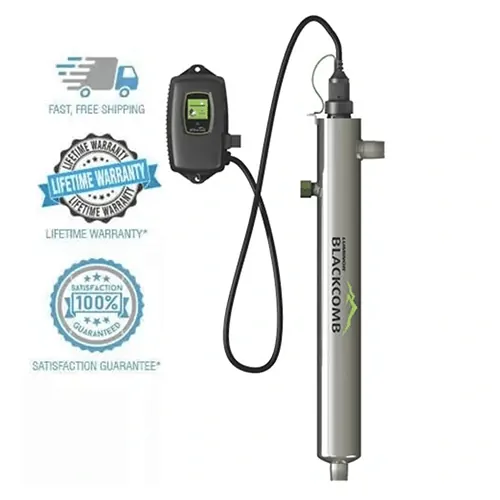 ---
---
The Blackcomb 5.1 UV purifier by Springwell is a very powerful pathogen disinfectant that can be attached to a standard whole house carbon filtration system. The 30mj/cm2 dose is powerful enough to kill 99.9% of bacteria, viruses, and pathogens including Cryptosporidium and Giardia.
What sets the Blackcomb 5.1 apart from other UV purifiers is the "future-proof" expandability port in the splash-proof case for future upgrades and options. A colored user interface allows for easy visual identification of remaining lamp life and any error or fault codes and even incorporates QR codes to access information and videos via internet.
IS IT FOR ME?
For those who want the most powerful UV purifier for eliminating tough pathogens such as Crypto and Giardia, the Blackcomb 5.1 is about as powerful as you can get.
---
---
---
---
---
---
---
---
---
---
---
---
---
UV-purifier
6 GPM Flow Rate
110V or 220V

9000 hr lamp life

3-Year Warranty
---
---
---
---
---
---
The Crystal Quest UV purifier is a great add-on to any home filtration system. Providing clean water at a rate 6 gallons per minute and 110V, this UV lamp is powerful enough to provide bacteria, virus, and protozoa-free water for the entire house.
IS IT FOR ME?
This UV purifier is an ideal addition to a water purification system that eliminates heavy metals and sediment but doesn't kill microorganisms. It may be potentially useful for well water with suspected pathogens.
---
---
---
---
---
---
---
---
---
---
---
---
---
9-16 GPM
304 stainless steel
100-240V
40 Watts
10-year warranty UV chamber
1-year warranty on lamp
---
---
---
---
---
---
Pelican's UV system is developed in the largest installed base of UV systems in operation on the planet, and many of their innovations define the industry standards for safeguarding your water from the damaging effects of microbial and chemical contamination.
The technology used in the UV purifier is able to maintain 9-16 GPM, allowing for continuous water pressure while ensure effective UV disinfection. There is a safety cap installed on the unit to prevent children from accessing the lamp and other components.
IS IT FOR ME?
For those who want a reliable, effective UV purifier for pathogen removal in addition to their home water purification system, this UV unit from Pelican might be perfect.
---
---
---
---
---
---
---
---
---
---
---
HQUA-OWS-124 Ultraviolet Water Purifier Whole House Purification Sterilizer
---
---
12 GPM
120 Volts
55 Watts
9000 hour bulb life
304 Stainless Steel
---
---
---
---
---
---
We've selected the UV Purifier by HQUA as our top choice because of its build quality, company support, and widespread use among households.
This UV purification system by HQUA uses a 55 Watt ultraviolet lamp to purify water. At 12 gallons per minute, this UV system can provide enough clean water for an entire household. Featuring a 2.5" diameter reactor chamber made of 304 stainless steel and Quartz sleeve designed to transmit 90% of the UV light.
304 stainless steel and quartz glass are proven to be durable in various temperatures, pressures, and pH levels. No other materials will contact with your water.
Easy installation and maintenance with no need for chemical supplement. Lamp should be replaced annually and quartz sleeve should be cleaned every 6-12 months. Provides excellent after-sales customer service.
---
Build quality
Company support
Quartz sleeve must be cleaned every 6-12 months
---
---
---
---
---
---
---
---
---
---
---
Bluonics Ultraviolet Light Water Purifier
---
---
12 GPM
120 Volts
55 Watts
9000 hour bulb life
304 Stainless Steel
---
---
---
---
---
---
The UV system by Bluonics features a 12 GPM flow rate and a 55 Watt / 120 Volt ballast. It includes the complete system with an extra ballast, 1 extra quartz tube, and 2 replacement bulbs. This UV system provides enough purified water for the entire household with easy installation and low maintenance.
There is a light indicator on the ballast which alerts the owner if the purifier is active or not. A green light indicates that it is currently working while the red light indicates it is not. The bulbs are replaced every year.
Powerful enough for a large home, the UltraViolet Light Water Sterilizer is effective for both residential and commercial water purification. Can also be used for well water.
---
---
Includes extra ballast
Easy installation
Bulbs must be replaced every year
---
---
---
---
---
---
---
---
---
---
---
Ultraviolet radiation is one of the most efficient ways to inactivate life-threatening microbes in the water. The UV light renders their DNA ineffective almost instantly. Because UV purification doesn't remove sediment, it is best used alongside a proper filtration system. Whether using UV light to filter water for a house or for traveling outdoors, you can assure that waterborne diseases will not be a threat.
---
---
---
---
---
Thank you for taking the time to read our article on the best UV water purifiers. We'd love to hear your feedback in the comments section below. If you've found this article to be useful and are interested in learning more, be sure to sign up for our newsletter.
worldwaterreserve.com is a participant in the Amazon Services LLC Associates Program, an affiliate advertising program designed to provide a means for sites to earn advertising fees by advertising and linking to amazon.com. Some links may be affiliate links.
---
Latest posts by Jeremiah Castelo
(see all)