The sun emits one of the most powerful forms of energy on the planet: ultra violet radiation.
Covering just a small segment of the electromagnetic spectrum, UV rays are powerful enough to kill microbes and are used in various medical practices and commercial disinfection systems.
UV rays are particularly useful in water purification systems as all bacteria, viruses, and parasites are very effectively killed.
With the availability of home UV water purifiers, we can now have access to 100% microbe-free water integrated into our water system.
In this article, we'll cover:
The science behind UV purification
The components of a UV systems and how to maintain it properly
What is the best UV water purifier on the market today, why are they good, and where can I purchase one?
---
---
---
Editor's Choice for Best UV Purifier
12 GPM
Excellent customer service
This UV system provides microbe-free water for an entire household. Easy installation and maintenance. Excellent customer services Read our full review at the end of the article.
---
Read Reviews on Amazon
---
---
---
UV radiation is an invisible electromagnetic radiation in-between visible light and X-ray in the electromagnetic spectrum. UV is naturally present in sunlight, accounting for up to 3 - 5 percent of the sun's rays in terms of solar energy.
There are three subtypes of UV radiation – UV-A, UV-B and UV-C, which are long-wave, medium-wave and short-wave respectively. While over-exposure of our skin to UV radiation may damage living tissue and increase our risk of skin cancer, there are many benefits of UV. UV plays a crucial role in the formation of vitamin D and may help treat skin conditions such as eczema. We also use UV for the disinfection of water due to its germicidal properties.
---
---
Understanding How UV Water Purification Systems Work
---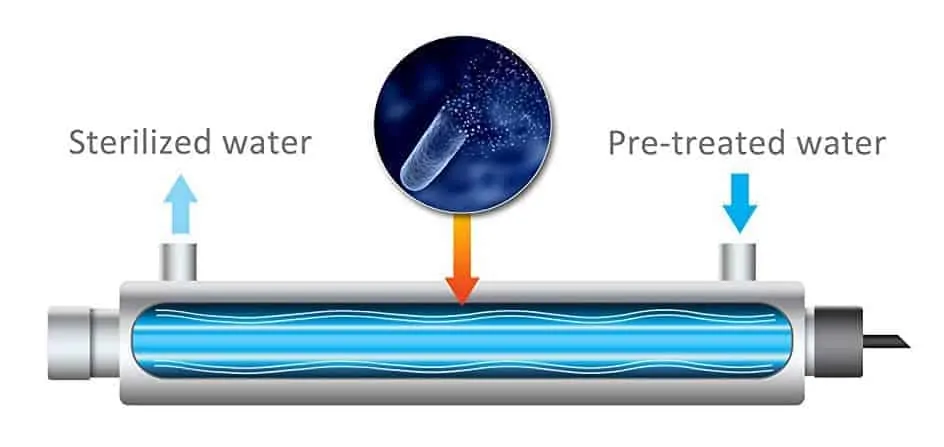 ---
UV purification systems disinfect water by sterilizing the harmful microorganisms with a UV lamp. These microbiological contaminants include viruses, bacteria and protozoa which pose health risks.
The UV lamp emits UV rays with the optimal wavelength, typically 254nm (UV-C). The emitted UV rays penetrate the outer cell membrane of these microorganisms, passing through the cell body to disrupt the DNA. The DNA is altered by the absorption of the UV-C radiation which breaks the internal chemical bonds and prevents reproduction.  As a result, the microorganism becomes sterile and unable to replicate.
How Are Microorganisms Eliminated?
UV does not kill microorganisms. It inactivates them and prevents them from replicating to produce colonies by attacking their DNA. The DNA of these microbiological contaminants is coded primarily for the purpose of replication.
The ability of these harmful active microorganisms to replicate, multiply and form colonies results in waterborne diseases such as Cholera, Typhoid, Dysentery and Guinea worm disease. However, when these harmful microorganisms are rendered inactive by disinfectants, they can enter our systems and pass through without causing any harm.
Disinfectants can be of two forms – chemical and physical. UV radiation is a form of physical disinfectant which does not alter the chemical nature of water, making it favorable for disinfection. Chemical disinfectants such as chlorine reacts with water, thus altering its nature and changing the taste and odor.
---
---
Things to Consider When Purchasing a UV Water Purifier
---
---
UV light is effective against all microorganisms, however there is no guarantee of a 100% destruction of microorganisms. Nevertheless, a 99.99% reduction is possible given that the UV unit is maintained properly, and certain conditions are met.
Water Quality
Some contaminants absorb or scatter UV light which will affect the transmission of the UV rays through water, thus reducing the amount of UV radiation that reaches the microorganisms. These contaminants commonly found in surface water supplies include iron, manganese, and fulvic and humic acid. Thus, disinfection with UV is most effective when used to treat water purified by filtration which removes such contaminants.
Microorganisms may also be protected by the shadow of dirt, suspended solids and other forms of floating debris. Water hardness should be at a level that is less than 7 grains per gallon, and the level of Total Dissolved Solids should be lower than 0.3 ppm.
Flow Rate
UV units usually have a maximum flowrate capacity and may have a minimum flowrate too. Water with a very high flowrate will most likely pass through the system without being exposed enough to the UV light. On the other hand, water with a very low flowrate may result in overheating of the UV lamp, leading to damage. The flowrate needs to be neither too high nor too low. UV units also work best with constant flow recirculation systems.
Flow rate for ultraviolet purifiers are measured in Gallons Per Minute (GPM). This is the rate at which contaminated water can flow through the system while being effectively purified. A typical whole-house UV purification system will purify water at 12GPM.
Wattage
In order to generate the required UV-C, short-wave radiation, the ballast needs to be of a certain wattage. For most households, a 55 Watt, 120 Volt system is enough.
Portable UV Units
While water filters are the most common purification device used for the outdoors, a portable UV device could be useful in conjunction with it.  Portable water filters are effective in eliminating sediment and large bacteria but not all microbes. UV light will eliminate all microbes but not sediment. A portable filter and UV device such as the SteriPen can make for a great combination when traveling outdoors.
---
---
Portable UV purifier for outdoors
Works well with filtration device
---
This portable UV filter is excellent for outdoor travel and will compliment a water filter by ensuring microbe-free water. Reusable for up to 8000 liters, this unit comes with 2 disposable batteries and a neoprene case.
---
View on Amazon
---
---
---
Advantages and Disadvantages of UV Water Purification
---
---
Advantages
Purification with UV is very effective. It destroys up to 99.99% of microorganisms present in the water. UV is comparatively more effective than chlorine against viruses.
UV is environmentally friendly and user friendly. UV is a green alternative to chlorine and it has no disinfection byproducts. There is also no risk of overdosing and no potentially harmful chemicals are required.
There is no change in the taste and odor. Unlike chemical disinfection methods like chlorine that changes the taste and odor of water, UV does not. The chemical structure of water remains the same after treatment with UV.
It is very economical and has a very low power consumption. The initial setup cost is relatively low and as well as the operating costs compared to other methods of disinfection including ozone and chlorine. Hundreds of gallons can be treated at a very low rate in terms of operating costs.
Maintenance is simple and easy. Periodic cleaning is required as well as an annual replacement of the UV lamp. The installation of the system is also a simple task.
Disadvantages
For the system to effectively disinfect, the water needs to be pretreated to remove debris and dirt. The water needs to be clear and of high quality for a high UV transmittance.
As power is required to operate, the system will not work in the event of a power failure.
UV can only eliminate the microorganisms in the water. Contaminants such as heavy metals, salts and chemicals cannot be removed with UV, so other methods of filtration are required to ensure the removal of all contaminants from the water.
Best Practices
Because UV purification eliminates microorganisms and not sediment, it is best when used in conjunction with a filtration device. A simple water filtration system installed in the sink will trap heavy metals, salts, and sediment that the UV purifier will not catch. Another option is to consider a reverse osmosis filtration system which incorporates a UV purifier. These combination systems offer the benefits of both RO and UV.
---
---
Components of a UV Purification System
---
---
UV purification systems have 4 main components.
The Reactor Chamber
The reactor chamber is the part of the system that houses the UV lamp and the quartz sleeve. The chamber also controls the flow of water going through the system. Stainless steel is usually used to build the reactor chamber, but some chambers may be manufactured with other materials such as plastic.
The UV Lamp
The UV lamp produces UV-C radiation which is known to be germicidal. UV lamps contain a bead of mercury which plays a crucial part in the production of the UV-C light rays. UV lamps have filaments that produce electrical current which heats up the mercury and causes it to evaporate in the air space inside the UV lamp. The evaporated mercury then creates electrical arcs that produce UV-C with various intensity levels which disinfects water.
The Quartz Sleeve
The quartz sleeve is a long, cylinder-shaped tube made of quartz glass. The sleeve protects the UV lamp placed inside from directly touching the water. The lamp transmits UV light into the water through the tube. As contaminants can cloud the sleeve, you have to clean it whenever the UV lamp is replaced to avoid a decrease in functionality.
The Controller Unit
The controller unit acts as the brain of the UV purification system. The unit controls the electrical output of the UV lamp and powers the lamp to produce the UV-C radiation needed to destroy microorganisms. Controllers may vary in terms of complexity depending on the requirements of the system. Some are a simple cap fitting over the end of the lamp while others have more elements – lamp-change timers, low-UV alarms and trouble indicating lights to alert the owners in the event of a system failure.
---
---
Maintenance Tips for Home UV Water Purification Systems
---
Replace the UV Lamp Annually
Although UV lamps do not burn out like florescent lamps, it will solarize. As the lamp solarizes, it loses its intensity to around 60% of that of a new UV lamp which decreases the UV dosage. New lamps generate a dosage of 60,000 µW-s/cm2 which drops to about 36,000 µW-s/cm2 (the minimum required dosage to effectively eliminate microorganisms) after a year. To prevent a decrease in effectiveness of the system, you will have to replace the UV lamp annually. Keep in mind that frequently turning on and off the lamp (less than once every 8 hours) will shorten its life span.
Monitor the System's Performance Regularly
To ensure that the system is functioning properly, you will have to sample water and test for bacteria count on a regular basis. You can sample the water before and after purification with the system then compare the bacteria counts to determine whether the system is effective.
Clean the Quartz Sleeve
Deposits of minerals and debris will eventually form on the surface of the quartz sleeve. This will in turn reduce the penetration of the transmitted UV radiation through the sleeve and into the water. To remove these deposits, the quartz sleeve needs to be cleaned regularly, depending on the water quality. Minimal cleaning will be required for water pretreated via reverse osmosis, distillation and deionization.
Monitor the System's UV Dosage Regularly
UV light intensity meters can be used to indicate the penetration of UV rays through the quartz sleeve and the water. The intensity level determines whether the UV dosage, thus indicating when you need to clean the sleeve or replace the lamp. A high UV dosage will have no negative impact on the purity of the water. However, a low UV dosage indicates that the system is not adequately disinfecting the water.
As maintaining UV purification systems is simple and easy, you can do the maintenance by yourself.  If you do however encounter any difficulties, you may contact a water treatment professional to assist you with the process.
What are the Best UV Water Purifiers I Should Buy?
---
---
---
---
---
---
---
We've selected the UV Purifier by HQUA as our top choice because of its build quality, company support, and widespread use among households.
This UV purification system by HQUA uses a 55 Watt ultraviolet lamp to purify water. At 12 gallons per minute, this UV system can provide enough clean water for an entire household. Featuring a 2.5" diameter reactor chamber made of 304 stainless steel and Quartz sleeve designed to transmit 90% of the UV light.
Easy installation and maintenance with no need for chemical supplement. Lamp should be replaced annually and quartz sleeve should be cleaned every 6-12 months. Provides excellent after-sales customer service.
---
---
---
---
---
The UV system by Bluonics features a 12 GPM flow rate and a 55 Watt / 120 Volt ballast. It includes the complete system with an extra ballast, 1 extra quartz tube, and 2 replacement bulbs. This UV system provides enough purified water for the entire household with easy installation and low maintenance.
---
---
---
---
---
---
Ronaqua's UV water purifier operates at 12 GPM, enough for an entire household. Features a 55 Watt ballast with 2 replacement bulbs, and mounting clips. Allows for vertical or horizontal installation.
---
---
---
---
---
---
This system by iSpring is technically an RO system which features an additional UV chamber for microbe disinfection. Because it is recommended to include a filtration system with any UV purifier, this system includes it all in one. iSpring features a 1 year guarantee for their product.
---
Ultraviolet radiation is one of the most efficient ways to inactivate life-threatening microbes in the water. The UV light renders their DNA ineffective almost instantly. Because UV purification doesn't remove sediment, it is best used alongside a proper filtration system. Whether using UV light to filter water for a house or for traveling outdoors, you can assure that waterborne diseases will not be a threat.
---
Thank you for taking the time to read our article on the best UV water purifiers. We'd love to hear your feedback in the comments section below. If you've found this article to be useful and are interested in learning more, be sure to sign up for our newsletter.