The best shallow well jet pumps are made of cast iron or stainless steel, have durable impellers, and can pump water from depths of up to 25 feet. Deep-well jet pumps or convertible pumps can reach depths of up to 90 feet or greater. Some of the top brands are Red Lion, Burcam, and Goulds.
---
---
The modern jet pump has proven to be a brilliant piece of machinery, allowing private well owners to customize their application in a variety of ways.
But with the myriad of shallow well jet pump options available, how does one go about selecting the right one for their application?
It certainly requires consideration of a number of factors including size, depth, HO, flow rate, and brand, which all have a significant impact on overall system performance.
This article breaks down all the factors that you should consider when selecting the best shallow well jet pump for your home application.
This article will discuss the following:
Reviews of the Best Shallow Well Jet Pumps Available
Reviews of the Best Deep Well Jet Pumps Available
How a Jet Pump Works
How to Prime a Shallow Well Jet Pump
Maintenance and Troubleshooting FAQs
---
---
---
---
---
Editor's Choice for Best Shallow Well Jet Pump
---
---
---
The 6.6 Gallon pressure tank comes with an internal butyl bladder, eliminating the waterlogging problem. Burcam provides a 2-year warranty for the pump and tank. Unit is factory assembled for easy installation.
---
---
---
---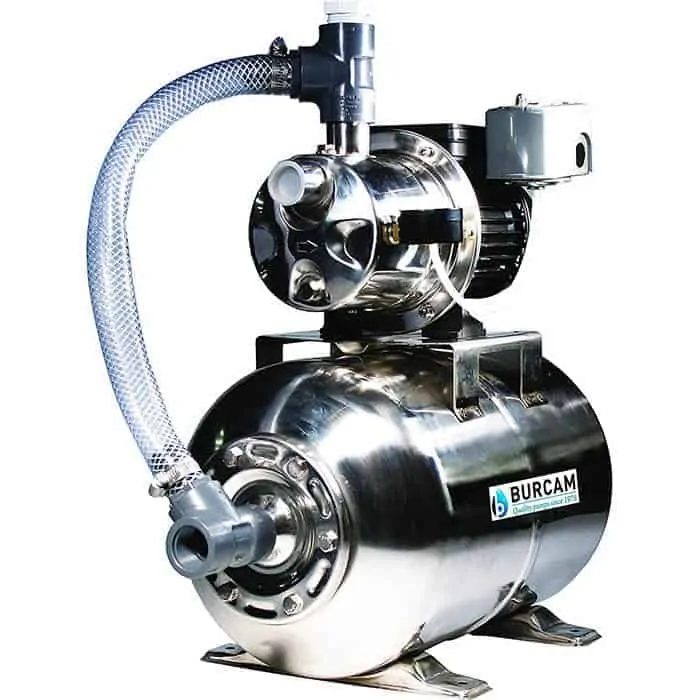 ---
---
---
---
---
---
Pump
Model

Vendor

Red Lion
Shallow Well

CountyLine
Shallow Well

Eco Flo
Shallow Well
Superior Pump
Shallow Well
Dayton
Shallow Well

Flotec
Shallow Well
WAYNE SWS100
Shallow Well
Goulds J5
Convertible

Wayne CWS75
Convertible
Goulds HSJ07N
Multistage
---
---
---
---
Best Deep Well Jet Pumps: 25 to 90 ft.
---
---
Convertible jet pumps pump water at depths between 25 and 90 feet, while some multistage deep well jet pumps can reach even further depths. These jet pumps are suitable for well owners whose depths exceed 25 feet, but don't quite meet the need for a submersible pump.
---
---
---
---
---
---
---
---
---
Red Lion RJC-100 Convertible Jet Pump with Injector Kit
---
---
1 HP
115/230 Volts
30/50 Pressure Switch
Max GPM: 20
Cast Iron Build
---
---
---
---
---
---
Red Lion's convertible jet pump is powerful enough to provide a maximum flow rate of 20 GPM for large homes and cottages. The convertible jet design allows for well depths between 25 and 90 feet.
Red Lion's name is well known among well pump owners as they've been a leading manufacturer in the industry for decades. The glass-filled thermoplastic impellers allow for maximum efficiency in pumping.
---
---
Pumps at 20 gallons per minute
Strong cast iron build
Pressure gauge not included
---
---
---
---
---
---
---
---
---
---
---
Goulds J5 Convertible Deep Well Jet Pump
---
---
1/2 HP
115v/230v
Max Temp: 140 F
Cast Iron Build
---
---
---
---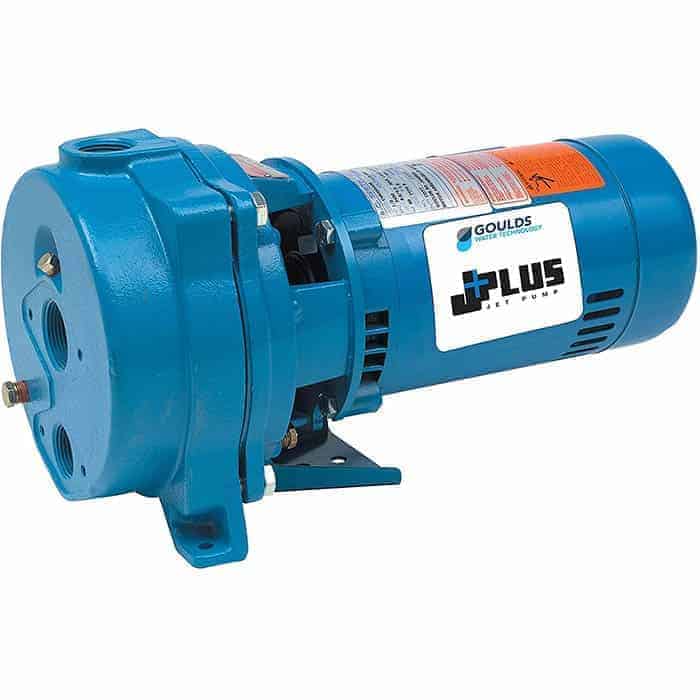 ---
---
The J5 deep well convertible jet pump is a powerful pump for well depths between 25 and 90 feet. The 1/2 HP motor is ideal for a small home or cottage in a rural setting.
Goulds traditionally manufactures their pumps with corrosion-resistant cast iron to ensure optimum durability. Robustly designed to perform continuously without damage, the FDA-compliant impellers allow for optimum performance. The protected mechanical seal ensures leak protection.
Max temperature of 140 degrees allows for overheating resistance. Goulds is a staple name in pump manufacturing and their convertible deep well jet pump is the top of the line.
---
---
Overheating protection
Meets depths between 25 and 90 feet
Cast iron build for extra durability
Will not reach depths shallower than 25 feet or deeper than 90
---
---
---
---
---
---
---
---
---
---
---
---
---
1/2 HP
Max GPM: 10
Maximum Depth to Water: 70 ft.
Corrosion-resistant Cast Iron
1 Year Warranty
---
---
---
---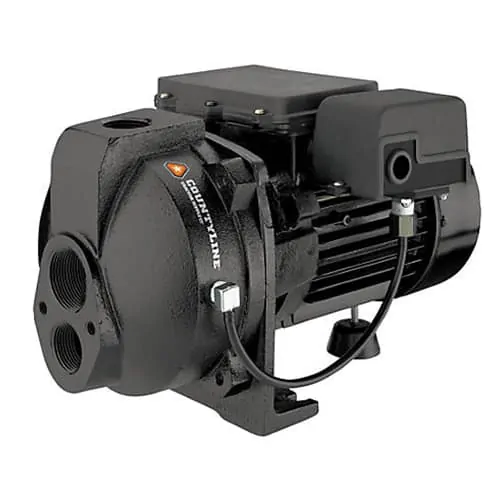 ---
---
Deeper wells may require a convertible jet pump to account for the increased depth.
CountyLine Convertible Cast Iron Jet Pump delivers water from 70 ft. or less and is built of rugged cast iron construction for long life. It includes pressure regulator, pressure gauge and ejector kit for 4 in. wells or larger.
---
---
---
---
---
---
---
---
---
---
---
---
---
3/4 HP
Max GPM: 15
Maximum Depth to Water: 90 ft.
Corrosion-resistant Cast Iron
1 Year Warranty
---
---
---
---
---
The ECO-FLO EFCWJ7 Convertible Jet Pump can be used in either shallow or deep well installations in 4 in. wells. Ideal for shallow well applications with pumping levels to 25 feet, and for deep well applications with pumping levels to 90 feet.
---
---
---
---
---
---
---
---
---
---
---
Wayne CWS75 Convertible Well Jet Pump
---
---
3/4 HP
Cast Iron Build
Max GPM: 7.7
---
---
---
---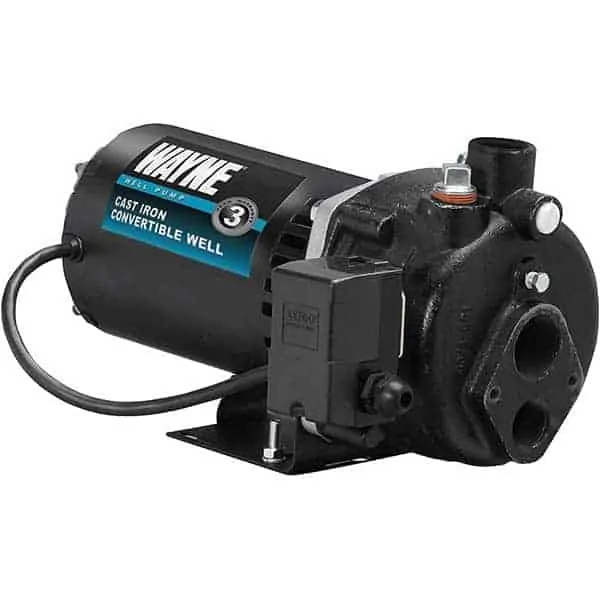 ---
---
Wayne's CWS75 convertible jet pump is a durable, cast-iron built pump designed to lift water from depths between 25 and 90 feet. The 3/4 HP motor is ideal for medium sized homes and cottages in rural areas.
Wayne pumps are leading manufacturer in the US and distribute pumps and parts to consumers worldwide. The CWS75 pump is self-priming, eliminating the need to prime manually.
---
---
Self-priming pump
Easy installation
---
---
---
---
---
---
---
---
---
---
---
---
---
1/2 HP
115 Volts
Pre-charged 15 Gallon tank
Rugged cast iron construction
---
---
---
---
---
---
Simer's deep well jet pump is sufficient to provide large homes with fresh well water at depths of  up to 70 feet. Its cast iron construction allows for the strongest build, making it safe for outdoor use if necessary.
---
---
---
---
---
---
---
---
---
---
---
---
---
---
---
3/4 HP
115/230 Volts
2 Stages
Single Phase
---
---
---
---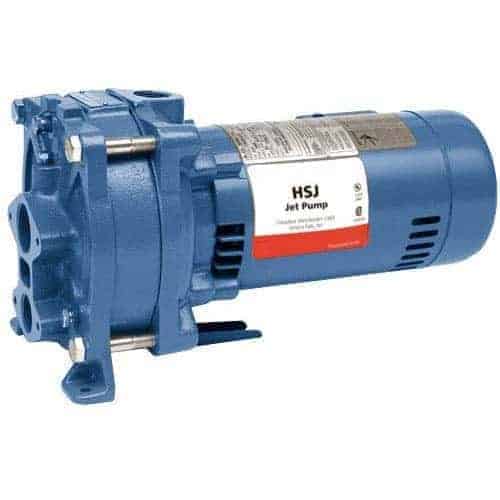 ---
---
Goulds' HSJ07N is a powerful multistage convertible jet pump designed for homes, cottages, and rural settings where well depths might exceed 90 feet. The high-capacity, multistage pump is specifically designed for continuous operation. Includes pressure switch, pressure gauge, and fittings.
Thermoplastic impellers ensure corrosion resistance and lightweight, efficient movement. Includes twin pipe assembly for both shallow and deep well application.
---
---
Thermoplastic impellers
High capacity - for depth greater than 90 feet
---
---
---
---
---
In regions where the water table isn't as deep as to require a submersible pump, deep and shallow well jet pumps may be the appropriate application for the well system. Shallow well jet pumps are typically used for wells at depths of 25 feet or less, while deep and convertible jet pumps reach 90 feet and beyond. The type jet pump necessary for the well system would depend on the depth of the well and the flow rate required to meet the household's demand.
Other considerations for choosing a jet pump include the build material, horsepower, and maximum GPM that the jet pump can provide.
Jet pumps use centrifugal force to pull water upwards as opposed to submersible pumps which push water from underneath. Unlike submersible pumps, jet pumps need to be primed in order to function properly. Priming a jet pump involves filling it with enough water prior to pump operation.
Deep and shallow well jet pumps may be the perfect application for well owners with slightly higher water tables and for those who prefer to have easy access to their pump.
---
---
---
Thank you for taking the time to read our article on the best deep and shallow well jet pumps. We'd love to hear your feedback in the comments section below. If you've found this article to be useful and are interested in learning more, be sure to sign up for our newsletter.
worldwaterreserve.com is a participant in the Amazon Services LLC Associates Program, an affiliate advertising program designed to provide a means for sites to earn advertising fees by advertising and linking to amazon.com. Some links may be affiliate links.
---
Latest posts by Jeremiah Castelo
(see all)