Humans have sourced water from wells for millennia and will continue to do so for as long as water remains in the ground.
While the components of what make up a well system have developed and greatly improved functionality, the concept of drawing groundwater from an aquifer remains largely unchanged.
Modern wells require the assistance of a well pump to force water upwards and into a water system, and the requirements for the type of pump vary depending on the depth of the well.
This article will focus primarily on shallow well jet pumps and everything a well owner would need to know in obtaining and using one.
This article will discuss the following:
Which are the Best Shallow Well Jet Pumps Available?
Which are the Best Deep Well Jet Pumps Available?
How a Jet Pump Works
How to Prime a Shallow Well Jet Pump
Maintenance and Troubleshooting FAQs
---
---
Editor's Choice for Best Shallow Well Jet Pump
---
---
Goulds J5S Shallow Well Jet Pump
The Goulds brand is recognized worldwide a s a leading well pump manufacturer. The J5S is one of their top shallow well jet pumps for small homes and rural cottages.
---
---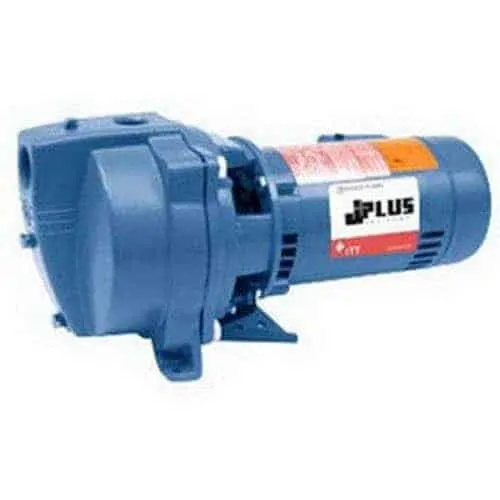 | | Model | Type of Jet Pump |
| --- | --- | --- |
| | Red Lion 97080503 | Shallow Well |
| | WAYNE SWS100 | Shallow Well |
| | Goulds J5 | Convertible |
| | Wayne CWS75 | Convertible |
| | Goulds HSJ07N | Multistage |
---
In regions where the water table isn't as deep as to require a submersible pump, deep and shallow well jet pumps may be the appropriate application for the well system. Shallow well jet pumps are typically used for wells at depths of 25 feet or less, while deep and convertible jet pumps reach 90 feet and beyond. The type jet pump necessary for the well system would depend on the depth of the well and the flow rate required to meet the household's demand.
Other considerations for choosing a jet pump include the build material, horsepower, and maximum GPM that the jet pump can provide.
Jet pumps use centrifugal force to pull water upwards as opposed to submersible pumps which push water from underneath. Unlike submersible pumps, jet pumps need to be primed in order to function properly. Priming a jet pump involves filling it with enough water prior to pump operation.
Deep and shallow well jet pumps may be the perfect application for well owners with slightly higher water tables and for those who prefer to have easy access to their pump.
---
Thank you for taking the time to read our article on the best deep and shallow well jet pumps. We'd love to hear your feedback in the comments section below. If you've found this article to be useful and are interested in learning more, be sure to sign up for our newsletter.
worldwaterreserve.com is a participant in the Amazon Services LLC Associates Program, an affiliate advertising program designed to provide a means for sites to earn advertising fees by advertising and linking to amazon.com. Some links may be affiliate links.
---
Latest posts by Jeremiah Castelo
(see all)