Humans have sourced water from wells for millennia and will continue to do so for as long as water remains in the ground.
While the components of what make up a well system have developed and greatly improved functionality, the concept of drawing groundwater from an aquifer remains largely unchanged.
Modern wells require the assistance of a well pump to force water upwards and into a water system, and the requirements for the type of pump vary depending on the depth of the well.
This article will focus primarily on shallow well jet pumps and everything a well owner would need to know in obtaining and using one.
This article will discuss the following:
Which are the Best Shallow Well Jet Pumps Available?
Which are the Best Deep Well Jet Pumps Available?
How a Jet Pump Works
How to Prime a Shallow Well Jet Pump
Maintenance and Troubleshooting FAQs
---
---
Editor's Choice for Best Shallow Well Jet Pump
---
---
Goulds J5S Shallow Well Jet Pump
The Goulds brand is recognized worldwide a s a leading well pump manufacturer. The J5S is one of their top shallow well jet pumps for small homes and rural cottages.
---
---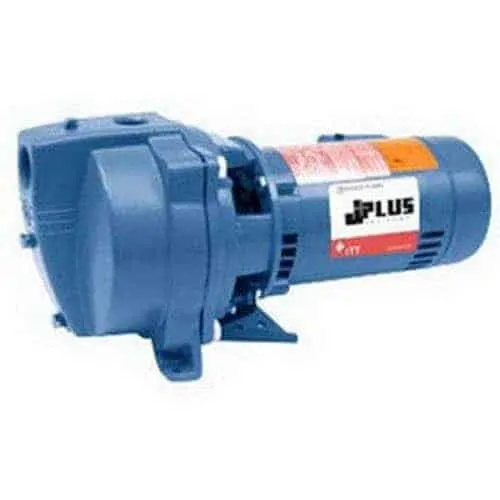 | | Model | Type of Jet Pump |
| --- | --- | --- |
| | Red Lion 97080503 | Shallow Well |
| | WAYNE SWS100 | Shallow Well |
| | Goulds J5 | Convertible |
| | Wayne CWS75 | Convertible |
| | Goulds HSJ07N | Multistage |
---
Why Use a Shallow Well Jet Pump?
---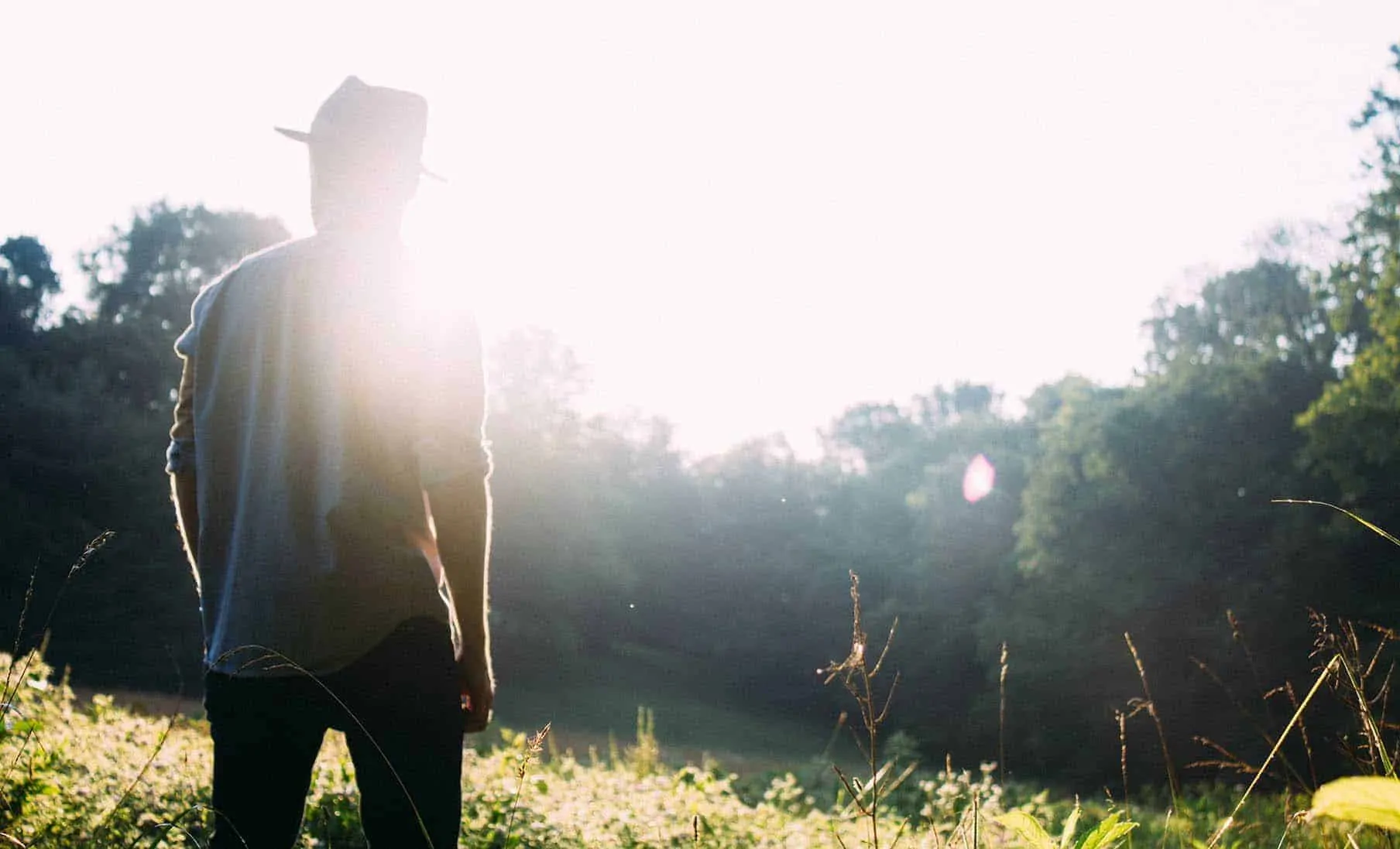 ---
The two most widely used types of pumps for well systems are jet pumps and submersible pumps. The submersible pump design is a relatively newer concept which submerges the pump beneath the water line, pushing water upwards and into the pressure tank. Jet pumps have been used as a standard for well systems for much longer and pull water upwards from the surface rather than pushing from underneath.
As the name suggests, shallow well jet pumps are designed to be used with shallow wells – up to 25 feet in depth. Submersible pumps are used for deeper wells – 90 feet and deeper.
Convertible jet pumps are much more versatile in design and allow for depths between 25 and 90 feet deep. Like shallow well jet pumps, convertible jet pumps operate on the ground level and pull water upwards.
For those whose water level is less than 25 feet, a shallow well jet pump may be the most practical application for the well system and will save a lot of time and expense in installation. Since the jet pump sits on the ground surface, the diameter of the well didn't be as wide as a well with a submersible pump.
Shallow well pumps are typically more durable due to their build material and straight-forward design in comparison to the complexity of submersible pumps and also require less maintenance. They can also be easily relocated in case of emergency. In addition, should there be any need for servicing or repairs, an above ground jet pump is much easier to access than a submersible pump.
---
---
How Does a Jet Pump Work?

---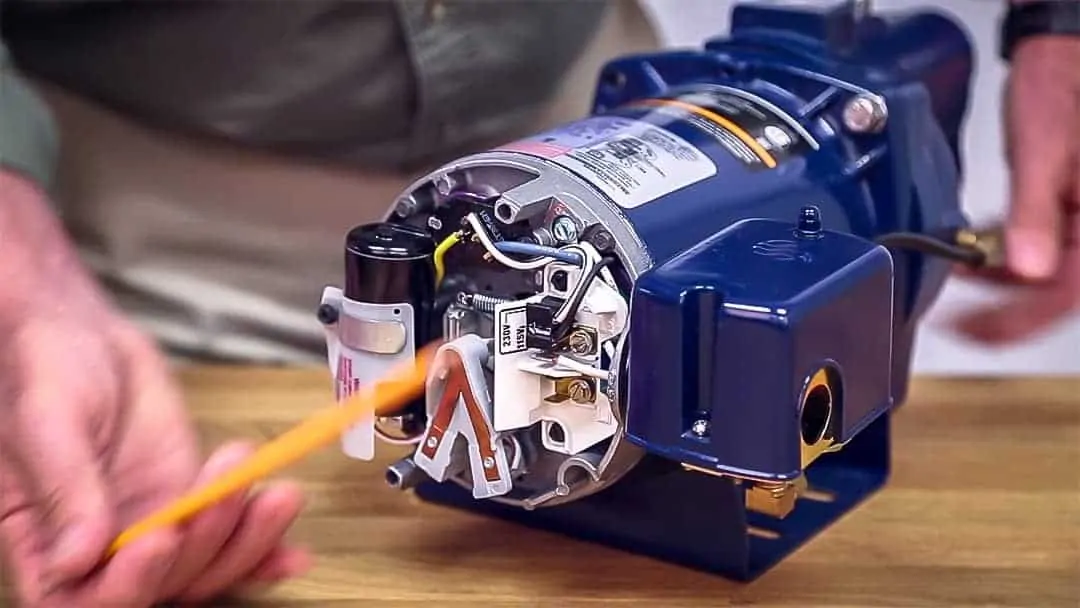 ---
---
The concept behind the mechanics of a jet pump is relatively simple. Whereas a submersible pump uses force to push water up toward the ground level, jet pumps create a vacuum to pull water upwards from underground.
The idea of a straw or siphon being used to suck water from one source to another illustrates the mechanics behind a jet pump. The longer the distance between the two sources, the stringer the suction needed to move water. This is precisely why shallow well jet pumps can move water at a maximum depth of about 25 feet.
In order to create a powerful enough vacuum to suck water upwards against the force of gravity, jet pumps use rapidly spinning impellers which are driven by an electric motor, creating centrifugal force to draw water up.
The pump is attached to a single narrow pipe which drops down into the groundwater and through which water travels up. The pump then forces water into the pressure tank which provides the entire system with water.
Double Drop / Convertible / Deep Well Jet Pumps
In order to exceed the 25-foot depth limit of most shallow well jet pumps, double-drop pumps, also known as convertible or deep well pumps, reach depths of up to 90 feet.
Convertible jet pumps work similarly to shallow well pumps in that they operate above ground and use impellers to create centrifugal force to suck water up from the well. But rather than having one drop pipe, convertible jet pumps have two drop pipes running down the well.
One of the drop pipes draws water upward just as with a shallow well pump, the other drop pipe, known as the drive line, pushes water downward back into the well in order to create additional pressure. The drive line typically extends into the well at 10 to 20 feet deeper than the suction line.
Because of the extra water pressure created by the drive line, convertible jet pumps are able to draw water from depths up to 90 feet.
Multistage Jet Pump
For well depths greater than 90 feet, a multistage jet pump may be more suitable in providing the required amount of pressure to draw water from the well. Multistage jet pumps include multiple impellers which allow for more powerful draw and thus greater water pressure.
Among the above-ground jet pumps, multistage jet pumps reach the greatest depths for well water pumping.
Things to Consider
Build Material
Jet pumps are typically housed in a cast iron or stainless-steel casing to protect it from corrosion and damage. The impellers can be made of either bronze or thermoplastic material.
While bronze is much more expensive, it is much more durable and powerful in its performance and more resistant to corrosion. Thermoplastic, while also durable, is much more lightweight and therefore requires much less energy to operate.
Flow Rate
In order to determine the motor size of the jet pump needed for the household, the demand for water must first be calculated.
In a typical residence, demand can be calculated by the number of fixtures in the household, which includes all showers, faucets, appliances, and outdoor fixtures. This number is roughly equivalent to the required water usage measured in gallons per minute (GPM). For example, a household with a total of 12 fixtures will have a demand of 12 gallons per minute. Thus, a jet pump capable of providing a flow rate equal or greater to 12 GPM should be considered.
Horsepower
It is important to consider that the more powerful the well pump, the more energy will be required to power it. A pump's horsepower is also directly related to the flow rate in GPM. A pump capable of providing a higher flow rate will typically have a higher HP rating to support it.
Shallow well pumps will typically have lower HP, while convertible and deep well jet pumps will require higher HP in order to compensate for the greater depth the water needs to travel.
Max GPM
When selecting a well pump, it is important to note that the max GPM rating doesn't necessarily indicate that the pump will provide that high of a flow rate at all times. The actual flow rate the pump will provide will be dependent on the depth of the well and the pressure setting. Flow rate can also fluctuate as the pressure within the tank rises and drops.
For example, a pump with a max GPM of 15 may only be able to provide that high of a flow rate at a pressure setting of around 50 PSI and at a well depth of about 10 feet (example). Should the pressure setting be at 30 PSI, and the depth of the well at 25 feet, the flow rate of the pump might be at 8 to 10 GPM. The max GPM rating of a pump only indicates its maximum potential given the optimum conditions.
---
---
---
---
---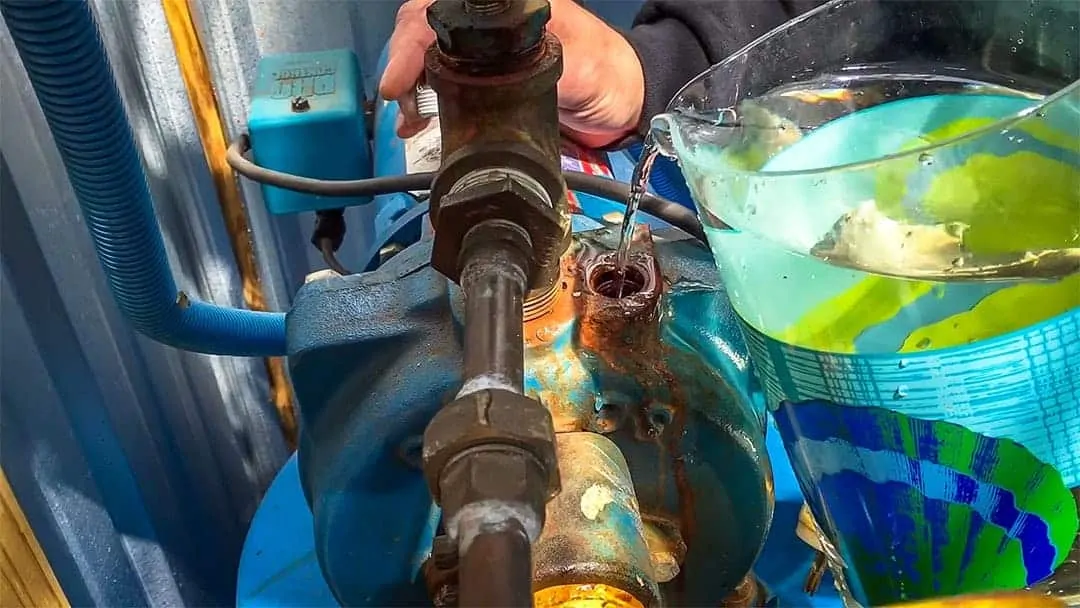 ---
The centrifugal force generated by a jet pump relies on water pressure, not air pressure. Because of this, water must first be present within the system in order for the pump to create enough suctioning force to draw more water upwards. The process of preparing a jet pump by adding water to the system is known as priming.
The purpose of priming a jet pump is to introduce water into the pump system and remove any traces of air. About two gallons of water is required for priming and if the well system is being started for the first time, an outside source of water may be needed.
First, shut off all electrical power to the pump to avoid accidental start-ups.
Be sure to momentarily open a household fixture to drain the system of any excess water.
Locate and remove the prime plug with a wrench and use a funnel to pour water into the priming hole. Be sure to fill it completely until it overflows. Replace the priming plug once enough water has been poured in.
Turn on the power supply and allow the pump to run through a normal cycle. A properly primed pump should cause the pressure gauge to climb and the dry sputtering sounds should subside as all the air exits the system.
Open a tap in the house to check if the system is working correctly. If water pressure is weak or intermittent, try priming the pump again until water flow is consistent.
---
---
Troubleshooting and Maintenance
---
How to Winterize a Jet Pump
Ideally, a jet pump should operate indoors, preferably in a basement, with the water line extending out into the well. And while a cast iron jet pump is designed to withstand outdoor operation, indoor placement would save the pump from extreme weather conditions.
With that said, should there be a need to keep the pump outdoors, it is best to drain the pump completely during winter seasons so as to avoid freezing. Allowing water to remain in the water lines and jet pumps can cause damage and should be avoided.
The Pump is Running But No Water is Coming Out
A pump which continues to run but fails to produce any water flow may be an indicator of a pump which has lost prime. In this case, it would be necessary to prime the jet pump again.
Shut off the power supply, add water to the pump via the prime plug, turn the pump back on and repeat the steps as necessary until the pump has reached prime once again.
Pump is Short Cycling
If the jet pump turns on and off too often, a problem known as "short cycling", it may be an indicator of several factors. It may indicate that the pressure tank is waterlogged, or that a valve is leaking, or that the pressure switch needs to be adjusted.
Be sure to inspect all valves for leaks and replace them as necessary.
Inspect the pressure tank for waterlogging. Shut off the system, empty the tank, and restart the pump. Be sure to check the tank for air leaks.  If the bladder is ruptured, the tank will need to be replaced.
If the pressure switch setting is too high or low for the well system, adjust it as necessary and restart the pump. Be sure that the differential between the cut-in and cut-out pressure setting is about 20 PSI.
Pump Won't Shut Off
If the pump continues to deliver water but won't shut off, the system's pressure isn't reaching the cut-off value. This may be because the pressure setting is too high, or because of a clog in the system which is keeping the pressure too low.
Be sure to check and expel any debris in the pump, especially in the impellers. If necessary, lower the pressure setting to a level more suitable for the system.
---
In regions where the water table isn't as deep as to require a submersible pump, deep and shallow well jet pumps may be the appropriate application for the well system. Shallow well jet pumps are typically used for wells at depths of 25 feet or less, while deep and convertible jet pumps reach 90 feet and beyond. The type jet pump necessary for the well system would depend on the depth of the well and the flow rate required to meet the household's demand.
Other considerations for choosing a jet pump include the build material, horsepower, and maximum GPM that the jet pump can provide.
Jet pumps use centrifugal force to pull water upwards as opposed to submersible pumps which push water from underneath. Unlike submersible pumps, jet pumps need to be primed in order to function properly. Priming a jet pump involves filling it with enough water prior to pump operation.
Deep and shallow well jet pumps may be the perfect application for well owners with slightly higher water tables and for those who prefer to have easy access to their pump.
---
Thank you for taking the time to read our article on the best deep and shallow well jet pumps. We'd love to hear your feedback in the comments section below. If you've found this article to be useful and are interested in learning more, be sure to sign up for our newsletter.
worldwaterreserve.com is a participant in the Amazon Services LLC Associates Program, an affiliate advertising program designed to provide a means for sites to earn advertising fees by advertising and linking to amazon.com. Some links may be affiliate links.
---
I'm Jeremiah Castelo, the owner of World Water Reserve. I'm a writer and researcher with a particular interest in sustainability and rural living, water scarcity, and innovative water purification methods. I utilize my multimedia and communication experience in the NGO and humanitarian fields to bring light to important topics. My passion is to educate others on the reality of the global water crisis and on ways to sustain themselves and their families in the midst of it.
Latest posts by Jeremiah Castelo (see all)