The content on worldwaterreserve.com is always free. When you make a purchase through one of our affiliate links, we make a commission at no extra cost to you. Help us keep our website thriving!
In regions where rainfall is heavy, a good harvesting system can sustain a residence with all of their indoor and outdoor water usages.
But for these larger harvesting set-ups, a good rainwater collection pump will be necessary to circulate water throughout the system.
Selecting the right rain barrel pump involves a number of factors that will ensure the best possible setup for your application.
These factors include type, size, flow rate, horsepower, and brand name.
This article will break down the important aspects of selecting the best rain barrel pump for your rainwater harvesting system.
This article will cover:
The best rain barrel pumps for harvesting systems
Different uses for rainwater collection pumps in a rain barrel
Types of rain barrel pumps
How to size a rain barrel pump
---
---
---
---
---
Editor's Choice for Best Rain Barrel Pump
---
---
The RainFlo RF075 is a heavy-duty, high-performance submersible pump designed to push large amounts of rainwater from a cistern or large-sized tank.
---
---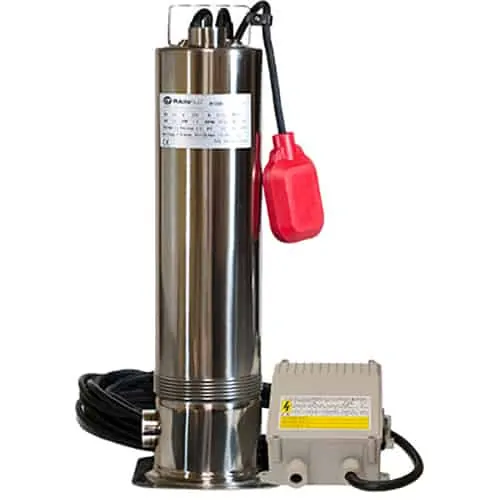 ---
---
---
---
---
---
Uses for Rainwater Collection Pumps in a Rain Barrel
---
---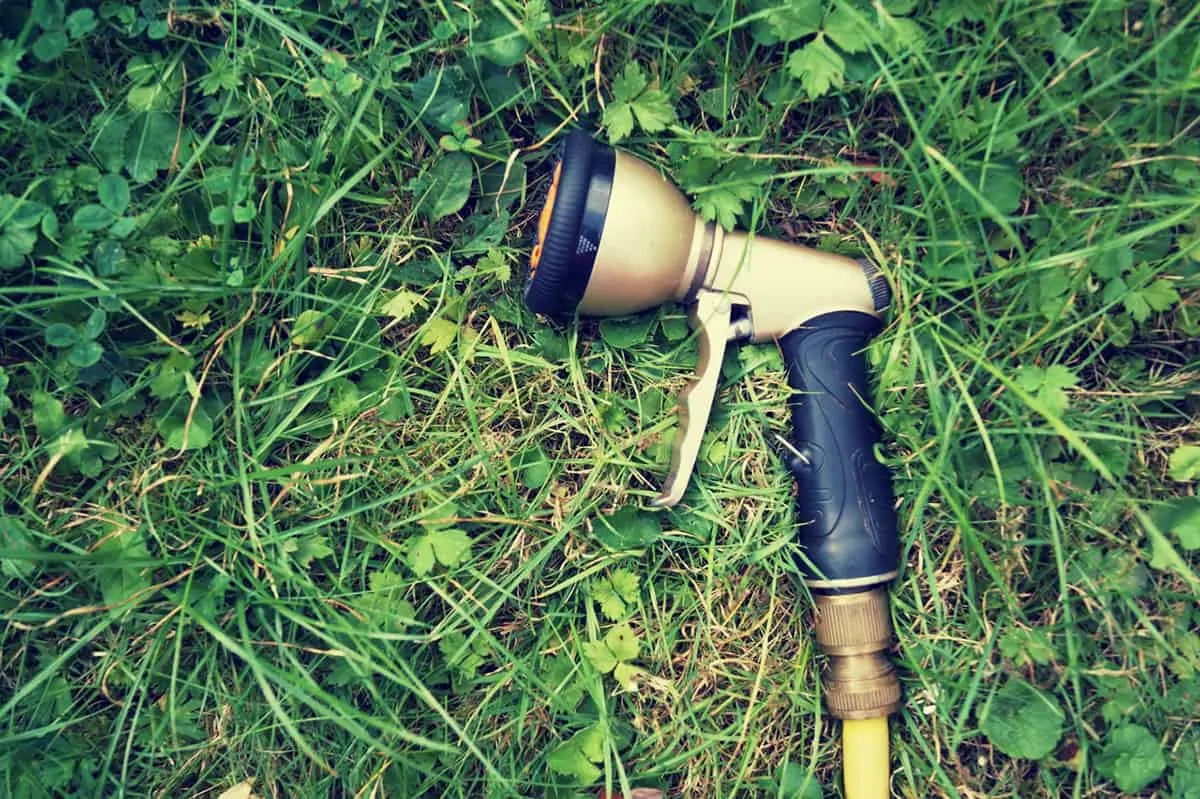 ---
---
Determining whether or not a rainwater harvesting system will warrant the need for a water pump is largely dependent on what the rainwater supply will be used for.
A 55-gallon rainwater barrel placed on an elevated stand might not require a pump if the sole purpose of the barrel is for watering the outdoor plants and other light gardening needs. The gravity created by the elevated rain barrel should provide enough pressure to allow decent water flow from the spigot and through the hose.
A larger water tank designed to capture heavy rainfall, intended to supply a home with basic water needs such as washing and cleaning, might not provide enough water pressure via gravity alone. In this case, a water pump will be needed to increase water pressure.
For this article, we will focus on rainwater harvesting applications that fit the need for a pump. Applications used for the following purposes should be considered for pump installation:
Indoor plumbing – bathrooms, kitchen needs, laundry
Irrigation
Lawn care
Vehicle purposes – car washing, RV maintenance
The amount of available rainfall should also be considered before installing a rainwater collection pump. While the thought of meeting all indoor plumbing needs via rainwater supply sounds intriguing, one must first make sure that the amount of rainfall in that particular region is adequate enough to meet those needs.
Heavy rainfall in Washington state might be enough to provide a household with enough water for showering, laundry, and many other indoor plumbing needs. But rainfall in Central California might only be enough to support light outdoor gardening.
Be sure to read our article that helps determine rainwater needs and availability: How to Collect Rainwater
---
---
---
---
---
---
Types of Rain Barrel Pumps

---
---
Water pumps come in a wide variety of types and sizes, each designed to fit its intended application. For this article, we'll be focusing on the two most common types of water pumps for rain harvesting systems.
Jet pumps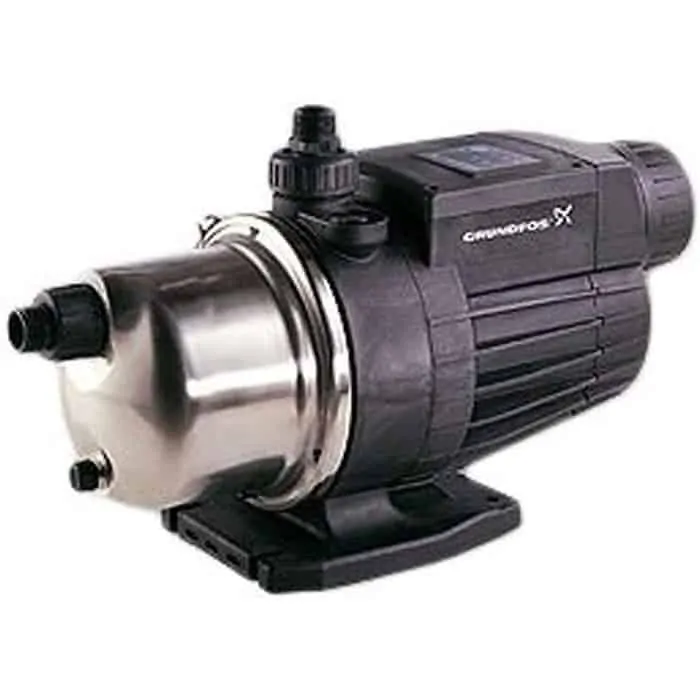 The main function of a jet pump is to create a "suctioning" force which transports water from the containment area, through the pump itself, and out towards its destination. This suction is created by an electric motor which drives rotating impellers. The rotation of these impellers creates a powerful vacuum which pulls water through it.
Since jet pumps are essentially use water to draw more water, these pumps usually have a priming process before they can be used to pump water. In other words, they'll need to be filled with water in order to operate it.
Jet pumps are durable and can be transported easily. They're usually placed on a level surface in close proximity to the water tank. A water line will connect the tank to the pump and another will direct pressurized water from the pump to its designated area.
One of the main advantages of a jet pump is that it is easily accessible for maintenance. They're also generally less expensive than submersible pumps.
Submersible pumps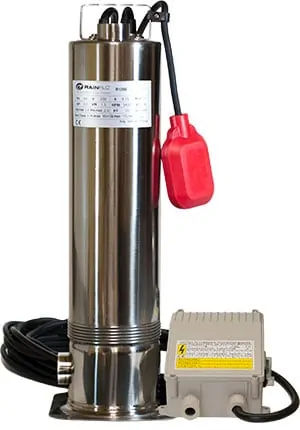 Submersible pumps differ from jet pumps in a number of ways. As the name suggests, submersible pumps are submerged within the water tank itself.
Rather than pulling water as is done by jet pumps, submersible pumping use centrifugal force to push water upwards. The internal components of a submersible pump consist of a series of impellers which rotate to create a vortex motion, propelling water upwards and through the water line. This force creates the pressure needed to run water through its fixtures.
An advantage of a submersible pump is that it is much quieter than a jet pump. Being submerged in the tank allows it to be out of sight. Because of the lack of accessibility, submersible pumps are designed to be long-lasting, requiring less maintenance than jet pumps.
Which One is Best for My System?
While preference is certainly a determinate factor in choosing between a jet or submersible pump for your rainwater harvesting system, some objectivity might help in making a decision.
By design, submersible pumps will far less accessible than jet pumps since they are meant to work without frequent maintenance. Because of this, submersible pumps are built to have an extended lifetime. Properly maintained submersible pumps can last up to 15 years.
But that's not to say that jet pumps are of any lesser quality in build. On the contrary, cast iron jet pumps are very durable and are designed to withstand an array of outdoor elements.
As a rough guideline, jet pumps might be better suited for smaller rain harvesting systems with simpler purposes. For example, less frequent water needs such as outdoor gardening and car washing, which can generally be supplied by a smaller rain barrel, might be more suited for a jet pump. The jet pump can be accessed, moved, maintained as needed.
For applications where rainwater is intended to be a primary water source for the home (and where the volume of rainfall is accommodating, of course), a submersible pump might be more appropriate. Because a larger rainwater tank will be needed to meet more water needs, and because the pump will be used much more heavily, it makes sense to have a submersible pump pumping from within the tank. In these scenarios, the pump won't be seen or accessed except on the very rare occasion.
Why Use a Pressure Tank?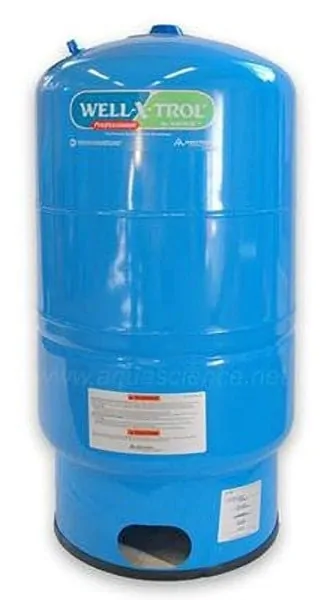 A pressure tank isn't always necessary for a rainwater harvesting application, but for those who will utilize their rainwater supply for the majority of their water uses, a pressure tank might want to be considered. In other words, if a household will rely solely on rainwater for their water uses, and not city or well water, then a pressure tank will be a good idea.
The pressure tank's main function is that it reduces the wear on the pump's motor by storing excess pressurized water, relieving the pump of having to work continuously every time a water fixture is turned on.
This works in the following way:
In order for water to be accessed via faucet, garden hose, sprinkler, shower head, or any other fixture for that matter, the water pump in the system will have to turn on to provide the necessary amount of pressure for water to flow through the system.
In applications where water is used frequently, the pump will have to turn on every time water is accessed. For every shower, faucet, and hose that is linked to the rain harvesting system, one can imagine the amount of times the pump has to turn on and off to accommodate each use. Over time, this can cause excessive wear on the pump's motor.
The pressure tank works by storing excesses pressurized water for future use and then dispersing it whenever a tap is turned on. The water comes directly from the pressure tank and not from the pump. When the water in the pressure tank depletes, the pump will turn on to fill it up again and turn off when the tank is filled. The tank will again wait to release pressurized water whenever another water fixture is used and the cycle repeats.
---
---
---
---
---
---
---
---
---
---
How to Size a Rain Barrel Pump

---
---
It is important to select the correct pump size for your rainwater harvesting application as the wrong size can have an effect on water efficiency and overall pump life. The following will provide a basic overview of understanding pump sizing. Pump manufacturers will usually provide detailed charts to help make a more accurate determination for proper pump size, and should always be referenced.
Flow Rate
"Flow" is recognized as the amount of water needed to supply all of the water fixtures in the system. By water fixtures, we're referring to any tap that will be accessing water: faucets, showerheads, toilets, garden hoses, etc. For example, a home with 2 faucets, two toilets, one showerhead, and two garden hoses will require higher flow rate than a small cottage with only two sinks and a toilet.
GPM
Flow rate is measured in terms of the volume of water that can be drawn in a certain amount of time. A pump will often measure its flow rate in gallons per minute or gallons per hour (GPM or GPH). For example, a pump with a flow rate of 12 GPM can draw 12 gallons of water per minute. The goal is to select a pump that provides a flow rate appropriate to the demand of the household.
Pressure Demand
Because water pressure changes according to a number of factors, it is helpful to determine the amount of pressure required for the home application. For example, most home fixtures such as toilets, faucets, and washing machines function well between 35 to 55 PSI (pressure per square inch), and should therefore be the desired range. Be sure to check the minimum and maximum PSI for all of your appliances to not exceed the recommended PSI.
Relationship between GPM and PSI
There is a dynamic relationship between flow rate and water pressure that is important to understand. Generally, as water pressure increases, flow rate decreases, and vice-versa.
A great example of this when partially plugging your thumb over the mouth of a garden hose as water flows through. While the pressure greatly increases, allowing water to spurt out much further than before, the actual volume of water coming through has decreased. Conversely, when the thumb is removed, water pressure returns to its original form, allowing more volume to flow through albeit at a lower pressure.
Water pressure and flow rate within a home system operate on the same principle. Because of this relationship, it is easy to see how selecting a water pump isn't as straightforward as one would like it to be. All pumps come with a maximum GPM and PSI. Selecting one with the appropriate performance for your household is the goal.
Total Dynamic Head
"Head" is associated with the amount of water pressure within the entire system in relation to the height, length, and width of all the pipes that water runs through. There are many factors that determine the total dynamic head. The two that we'll focus on are vertical lift and friction loss.
Vertical Lift
As the name implies, vertical lift refers to the vertical distance that water must travel in order to reach its destination. For example, a shower on the top floor of a two-story home will have a much higher vertical lift to compensate for than a garden hose at the ground floor. Thus, a pump powerful enough to provide the necessary lift will be required.
Friction Loss
Friction loss relates to the amount of work a pump must provide in order to circulate water throughout the system and is mostly measured in a horizontal fashion. The further the water has to travel the harder the pump has to work. In general, shorter, straighter, wider pipes provide better performance.
Calculating the data
The purpose of properly sizing a rain barrel pump for your system is so that the appropriate amount of water flow and pressure can be maintained as closely as possible. While the calculation of numbers can seem daunting, the more accurate the determination, the better for the system.
Rainharvest Systems has provided a chart to help calculate the numbers and better determine what size pump you'd need and can be viewed here:
https://www.rainharvest.com/info/How-to-choose-the-right-pump.pdf
---
---
A rain barrel pump can be very useful for larger rainwater harvesting systems as it can provide the necessary force to channel water through a home's piping system. It can also provide the necessary pressure to do garden and outdoor work.
The two main types of rain barrel pumps are jet pumps and submersible pumps. Jet pumps operate outside of the rain barrel and pull water through, while submersible pumps push water out from the inside.
Properly sizing a rain barrel pump is critical as an improperly sized pump can wear out the motor more quickly and might not provide the necessary amount of flow and pressure to the system. Be sure to check with the manufacturer for help in properly sizing a pump.
---
---
---
---
---
Thank you for taking the time to read our article on the best rain barrel pumps. We'd love to hear your feedback in the comments section below. If you've found this article to be useful and are interested in learning more, be sure to sign up for our newsletter.
---
---
---
Buyers guide for selecting the right Rainwater tank pump. (n.d.). Just Water Pumps. https://justwaterpumps.com.au/blog/buyers-guide-for-selecting-the-right-rainwater-tank
Do I need a pump for my water-rainwater tank. (2020, January 1). Plumbing Joes. https://plumbjoe.com/do-i-need-a-pump-for-my-water-rainwater-tank/
How to choose the right pump. (n.d.). RainHarvest Systems - Rainwater Collection and Stormwater Management. https://www.rainharvest.com/info/How-to-choose-the-right-pump.pdf
Jones, M. (n.d.). Choosing a Pump for Rainwater Harvesting. Urban Waterways. https://www.ctahr.hawaii.edu/hawaiirain
Pushard, D. (n.d.). Rainwater pump sizing. The Rainwater Harvesting Community. https://www.harvesth2o.com
Pushard, D. (n.d.). Rainwater pumps or pressure tanks. The Rainwater Harvesting Community. https://www.harvesth2o.com/pumps
Rainwater harvesting - Pumping. (n.d.). Conservation Technology - solutions for energy, water, and environmental conservation. https://www.conservationtechnology.com
Solutions, R. M. (2018, March 1). Rainwater harvesting 101: Pump selection. Rainwater Management Solutions. https://rainwatermanagement.com/blogs
What pumps work best for a Rainwater collection system? (2014, December 2). RainBank. https://rainbank.info/pumps-work-best-rainwater-collection-system/
Wood, V. (n.d.). Rainwater pump systems. The Rainwater Harvesting Community. https://www.harvesth2o.com/pump
Latest posts by Jeremiah Castelo
(see all)