While solar battery banks are one of the most popular methods for charging small devices in the outdoor and off-grid setting, it struggles in two major areas: charging time and consistency.
Portable solar batteries have a notoriously slow charging time, often taking many hours to reach full charge capacity. And the sun itself isn't always available on cloudy days or at night.
What if there were a way to utilize a more abundant resource for energy. A resource as abundant as, perhaps, twigs, leaves, and wood?
The Biolite Campstove 2 is an ultra-popular, off-grid device that does just that: turns organic fuel into usable energy.
By continuously burning twigs, wood, leaves, or any combustible organic material you may find in the outdoor setting, you can potentially have an endless source of energy for charging your small devices.
This is my review of the Biolite Campstove 2.
---
---
---
---
Key Features of the Biolite Campstove 2
---
---
Charge small devices with 3W of power
Burn wood, twigs, leaves, or pellets as fuel
Use as a stove to cook food or boil water
Boil 1 liter of water in 4.5 min
Packs down to the size of a 32oz water bottle
Weight: 2.06 lbs
---
---
---
---
---
Who Makes the Biolite Campstove 2?
Biolite is an American company founded by a team dedicated to providing sustainable energy to those in need. With their Energy Everywhere mission as the driving force behind their products, Biolite has developed a catalog of innovative items that provide sustainable energy in off-grid or rural settings.
They've since provided energy to 19 different countries across Sub-Saharan Africa, South Asia, and North America.
---
---
---
---
---
---
---
The Biolite Campstove 2 generates energy by burning organic material such as wood, twigs, and leaves. Through its patented combustion technology, a vortex of smokeless flames rises from the stove and can be used to cook meals and boil water. The heat generated from the flames powers the attached powerpack which can be used to charge small devices such as phones, flashlights, and cameras.
Biolite's patented technology captures excess heat from the stove through a heat probe attached to the powerpack. This heat is converted into electricity through a thermoelectric generator, storing the energy into the powerpack to be used to charge external devices via USB cable.
The internal fan allows for the elimination of smoke and for controlling the distribution of heat toward the thermoelectric generator, providing a safe and controlled environment.
Biolite Campstove 2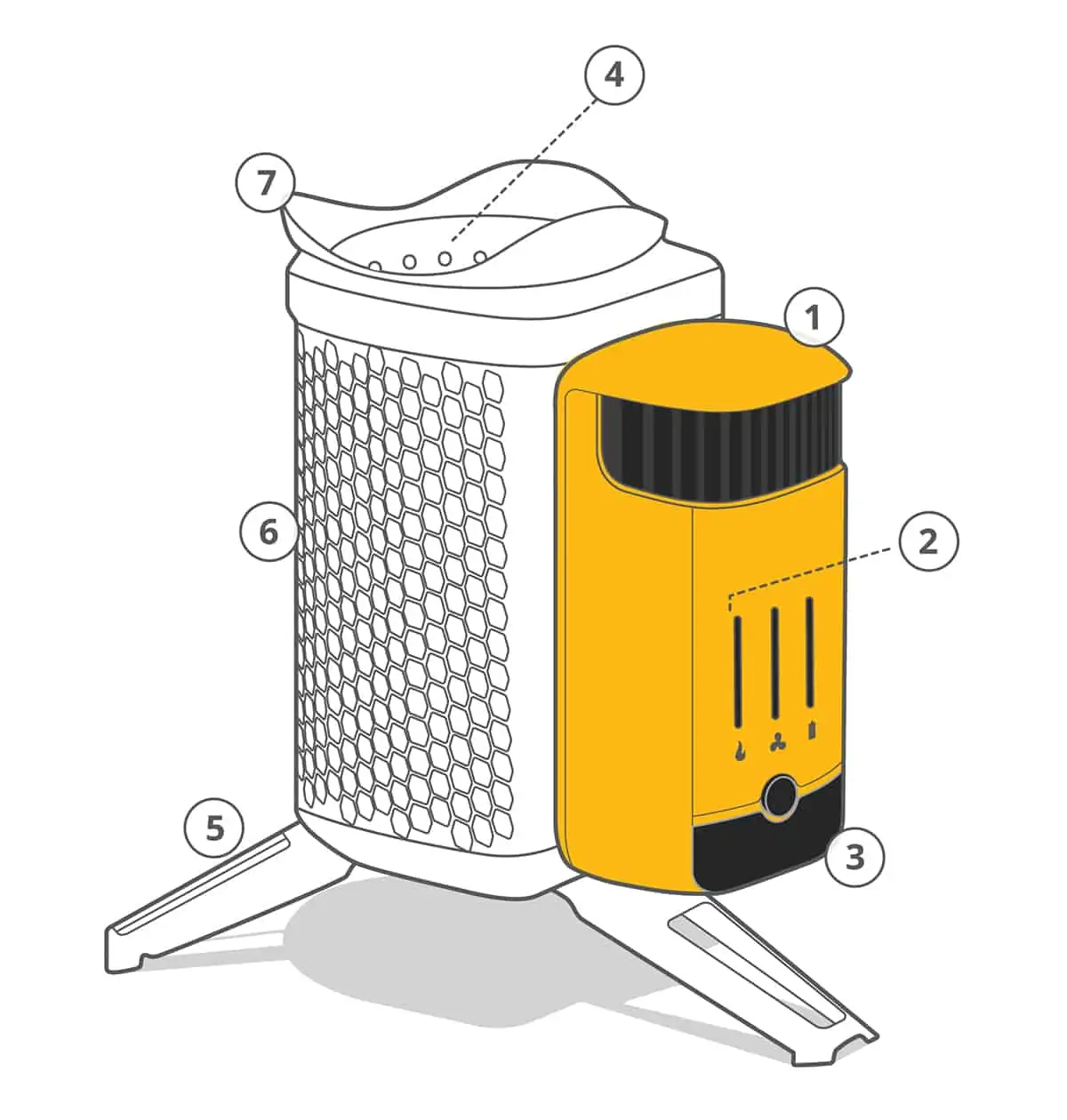 ---
---
On-Board Battery
Integrated 2600 mAh battery charges devices with or without a live fire
Smart LED Dashboard
Real-time feedback on fire strength, power output and fan speed settings
USB Charge Out With 50% More Power
Updated thermoelectrics create even more electricity from fire
Internal Fan Jets
4 fan speed settings circulate air for improved combustion and efficiency
Lightweight Aluminum Legs
Fold legs up and away for nested portability
Honeycomb Heat Mesh
Protective barrier from the inner burn chamber
Scalloped Pot Stand
Accommodates BioLite KettlePot, Portable Grill and other cookware
---
---
---
---
---
---
Battery: 2600 mAh

Boil Time: 4.5 minutes for 1L

Fuel: Biomass (sticks, twigs, pellets)

Compatible Devices: Most USB-chargeable devices (phones, cameras, lights)

4 Fan Speeds

Dimensions: Packed: 5.0" x 7.91" (127mm x 201mm)
---
---
---
---
---
The Biolite Campstove 2 in Action
---
---
Function
The Biolite Campstove 2 essential has two functions: it can act as a portable stove for cooking and can charge small devices with its powerpack.  Powerbanks that rely on other external energy sources such as solar are dependent on the weather conditions and aren't consistently available for power. The Biolite Campstove 2 works great as an additional power source and can potentially provide unlimited energy provided there are fuel sources nearby. The Biolite can even be used to recharge your primary solar powerbank whenever sun conditions aren't quite optimum.
While the combustion chamber is small and might require frequent feeding of fuel, the stove itself burns quite well as it allows for great circulation, providing a strong, consistent flame.
Portability
At 2 lbs and 5" x 8" in packed size, the Biolite Campstove 2 can easily fit into a 32 oz canister holder and carried along in a pack. Its light weight and compact size make it easy to carry on long hikes and don't take up much space.


Charging Times
With the stove burning, it can take about an hour to charge the battery to about 50% capacity. At 3 watts, the battery can sufficiently charge small devices to capacity before needing to be refueled. An LED light on the side of the powerpack indicates the power level.
Is it safe?
Some customers have voiced concern over the danger of having a battery as part of a stove. The design of the Biolite 2 intentionally keeps the battery away from the flame and the internal fans regulate the heat absorbed by the thermoelectric generator. The Biolite Campstove 2 is very safe and has undergone rigorous testing.
---
---
---
---
---
Biolite Campstove 2 Video Review
Watch this video preview by Biolite
---
---
---
---
---
---
---
---
---
Cindy
The stove is very easy to use, I love it!
I got some pellets from the hardware store and they work great! I'm a car camper (so weight isn't an issue) and wanted something small and quick to heat water for tea/coffee and dehydrated meals. The light is useful and the power port is nice to have. 
---
---
Jay Boi
Lightweight and durable
Fantastic for backpacking! You can break it out and have a fire going in minutes.
---
---
---
Charge small devices with 3W of power
Burn wood, twigs, leaves, or pellets as fuel
Use as a stove to cook food or boil water
Boil 1 liter of water in 4.5 min
Packs down to the size of a 32oz water bottle
Weight: 2.06 lbs
---
---
---
---
---
---
---
---
---
---
Summary
The Biolite Campstove 2 is a portable smokeless stove that uses organic material to charge small devices. Its built-in power bank converts heat to electricity, providing 3 watts of power to charge phones, tablets, and cameras. It packs away at 5" x 8" in size and weighs 2 lbs, making ideal for long backpacking trips.
---
---
---
---
---
Thank you for taking the time to read our article on the Biolite Campstove 2. We'd love to hear your feedback in the comments section below. If you've found this article to be useful and are interested in learning more, be sure to sign up for our newsletter.
worldwaterreserve.com is a participant in the Amazon Services LLC Associates Program, an affiliate advertising program designed to provide a means for sites to earn advertising fees by advertising and linking to amazon.com. Some links may be affiliate links.
---
Latest posts by Jeremiah Castelo
(see all)